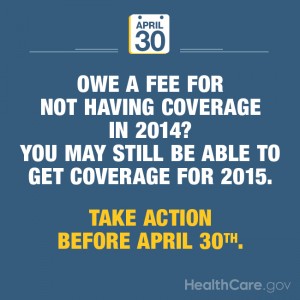 Today marks the one week deadline for the Special Enrollment Period (SEP) for those who are subject to the tax penalty. As we reported earlier, CMS is providing an SEP in the federally facilitated marketplaces for those tax payers who learned that they would be subject to the "shared responsibility payment," or tax penalty, when they filed their 2014 taxes. To read our news item on this SEP, which includes a link to the CMS announcement with all the requirements a consumer must meet for the SEP, click here. If a consumer wants to see if they qualify for this or any other SEP, check out this page on Healthcare.gov.
Since this does not apply to the state-based marketplaces, we also prepared a summary in our blog on what those states are doing. Click here to read that post.
For navigators and assisters, if you're looking for graphics like the one above to promote the SEP in this final push, check out this page from Healthcare.gov that includes free graphics in English & Spanish.