Welcome to AAHD's Social Media Toolkit for Medicaid. This toolkit provides sample social media posts as well as graphics and relevant hashtags which can be combined to promote the importance of the Medicaid program and how important it is for people with disabilities.
Click here to download this toolkit in a zip drive
Sample Tweets/Facebook Posts
Nearly 1 in 5 Americans are covered by #Medicaid
Did you know that 1 out of 3 children receive coverage through Medicaid or CHIP?
#Medicaid provides screening programs such as the EPSDT benefit to ensure kids with autism have access to the care they need. @MedicaidGov
Did you know there are two pathways that are available to children with disabilities to receive Medicaid? For more information check out https://www.macpac.gov/subtopic/children-with-disabilities/
Did you know over 10 million qualify for #Medicaid based on a disability? Check out this link to learn more on eligibility https://www.macpac.gov/subtopic/people-with-disabilities/
#Medicaid covers over 35.7 million children in 48 states across the country. #GetCoveredNow
#Medicaid pays for 46% of the $100 billion spent on nursing home services annually
Did you know that 21% of the costs for substance abuses services are covered by #Medicaid
Did you know that #Medicaid covers many benefits like ______?

Enter one of these in the blank line:

Inpatient hospital services
Outpatient hospital services
EPSDT (Early and Periodic Screening, Diagnostic, and Treatment) Services
Home health services
Nursing Facility Services
Physician services
Rural health clinic services
Federally qualified health center services
Laboratory and X-ray services
Family planning services
Nurse Midwife services
Certified Pediatric and Family Nurse Practitioner services
Freestanding Birth Center services (when licensed or otherwise recognized by the state)
Transportation to medical care
Tobacco cessation counseling for pregnant women

According to @macpacgov, Medicaid and CHIP are important sources of coverage for pregnant women, paying for half of the four million annual births in the U.S.
Medicaid managed care organizations treat three times more neonatal intensive care unit admissions than commercial plans and save thousands of babies per year.
Graphics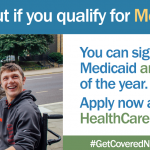 Relevant Hashtags
#GetCoveredNow
#IamMedicaid
#WeareMedicaid
#MedicaidMatters
#SaveMedicaid
#MedicaidWorks
#ProtectOurCare
Social Media Accounts to Follow
Digital Materials
Our News Stories on Medicaid Work Requirements
For more information and statistics regarding Medicaid