OPEN ENROLLMENT IS HERE – ARE YOU READY?
Open Enrollment begins Sunday!! If you're looking for a promotional brochure to use for people with disabilities, then check out the new handout entitled "Time to Check Your Health Insurance." This brochure was prepared by the Consortium for Citizens with Disabilities and highlights the issues consumers need to think about during the next three months and the critical dates throughout open enrollment. The brochure can be downloaded here and is also available on the Materials page of the website here.
At a White House event on Monday, CMS previewed some of the changes they've made to streamline the application process. To read more about the event and for a link to the CMS Fact Sheet which discusses the changes in detail, read our news item here.
Do you have consumers that are looking for one resource that can answer many of their questions about enrollment and the Marketplace? The Kaiser Family Foundation has released a list of Health Reform Frequently Asked Questions (FAQs) that address many of these issues. To read our news item which includes a summary of the topics covered and a link to this valuable resource, click here. It is also on our Resources & Links page under "Enrollment Overview."
Modified Adjusted Gross Income (MAGI) is critical in determining a consumer's eligibility for financial assistance with premiums. If you're looking for a comprehensive resource to help explain MAGI, then check out the new publication from the National Health Law Program (NHeLP) entitled "An Advocate's Guide to MAGI." This guide can be found by clicking here.
Even though Open Enrollment is just beginning, remember that Medicaid enrollment is year round and CMS has released the enrollment figures for Medicaid for August 2015. To read the report from CMS, click here. The report can also be found on our Resources & Links page under "Enrollment Statistics."
In case you missed it, last week we announced an updated population specific fact sheet on veterans entitled "Information for Veterans Regarding Department of Veterans Affairs Healthcare." The updated veterans fact sheet can be accessed here. While you're checking out the updated fact sheet, make sure you have all our fact sheets in preparation for Open Enrollment. The topical and population specific fact sheets can be accessed here and our Disability Guide can be accessed here.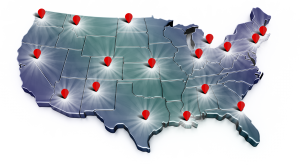 Are you looking for local partners to help with outreach to the disability community? The NDNRC is funding eighteen Community Outreach Collaboratives (COCs) for the third year of enrollment. This includes the eleven that were funded last year, plus seven new locations in six new states. The COCs will increase collaborations in the community, dissemination and outreach efforts and enrollment of people with disabilities in the ACA. To find a COC, click here.
To access the archives for our weekly updates click here.