APRIL IS MEDICAID AWARENESS MONTH
April is Medicaid Awareness month and the Protect Our Care Coalition has released a new fact sheet highlighting how Medicaid benefits children and families. The link for this fact sheet can be found in our news item.
At the end of last week, the Centers for Medicare & Medicaid Services (CMS) released the Eligibility Determinations and Enrollment Report from January 2018. This report can also be found on our Resources & Links page under "Enrollment Statistics." Prior Medicaid enrollment reports from CMS, are archived on our website.
Speaking of Medicaid, in February we published a blog post  which captures all the news and resources on the waivers where states are adding work requirements to their Medicaid programs.  We continue to add new resources to this list. This week we added a new fact sheet from the Center on Budget and Policy Priorities (CBPP) on how work requirements would harm children. CBPP also wrote in their blog this week about how "Medicaid Continues to Help Schools Help Children."
AAHD has partnered with CBPP on a project called the Consumer Assistance Coordination Hub (CACH). The CACH supports individuals and groups that provide enrollment assistance. To read more about this project, check out our blog post.
The Kaiser Family Foundation has released a new poll of individuals in the non-group health insurance market, which is largely made up of individuals enrolled in the ACA marketplace. To learn more about the poll including what were the factors that drove people to enroll in coverage, check out our news item.
This week, CMS also issued its final report on the open enrollment period for 2018. The report shows 11.8 million people gained coverage through the ACA marketplace. To read more, check out the CMS press release.
The Community Catalyst outreach project which we are working on has prepared graphics to highlight Special Enrollment Periods (SEPs) for which consumers may qualify. These graphics are specific to many of the reasons people could be eligible like the graphic below highlighting SEPs for individuals who are victims of domestic violence. To learn more about what's available through this project, check out our blog post.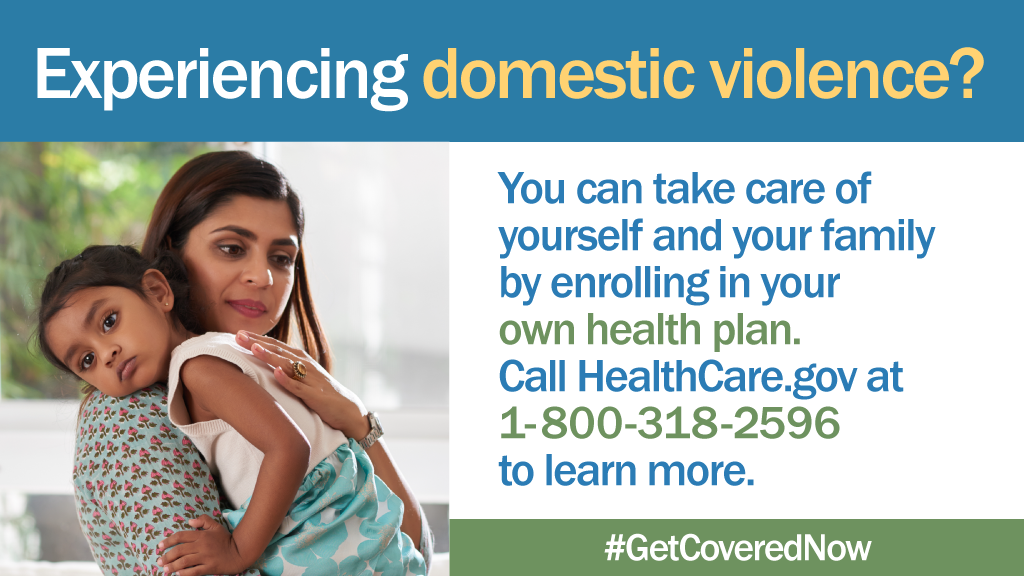 The New Hampshire (NH) Disability & Public Health Project created a new data brief entitled, "New Hampshire Adults with Disabilities Are Motivated to Quit Smoking".   To better understand smoking trends and attempts to quit among people with disabilities in NH, the NH Disability and Public Health Project (DPH) worked with the NH Tobacco Prevention and Cessation Program to add new questions to the QuitNow-NH intake survey.
The University of Washington, Healthy Aging & Physical Disability, Rehabilitation Research Training Center (RRTC) has released a plain language summary called "An Enhanced Simulation Can Show Occupational and Physical Therapy Students How People Adapt to Disabilities."
Are you looking for local partners to help with outreach to the disability community? The NDNRC has Community Outreach Collaboratives (COCs) which work to increase collaborations in the community, dissemination and outreach efforts and enrollment of people with disabilities in the ACA marketplace. You can find a COC, on the COC page of our website.
Archives of our weekly updates are available on the NDNRC website.