CHRIL HAS NEW ONLINE TRAINING ON MEDICARE
The Collaborative on Health Reform and Independent Living (CHRIL) has posted a new online training module entitled "Medicare 101." To learn more about the course and for a link, check out our news item.
Yesterday, CMS made an announcement providing an additional Special Enrollment Period (SEP) for individuals affected by 2017 hurricanes and hurricane-related weather events. To read the full CMS announcement for who qualifies, check out our news item.
Speaking of SEPs, the Center on Budget and Policy Priorities (CBPP) has recently updated their chart which looks at events that trigger an SEP, how long that SEP lasts and other helpful information. The Community Catalyst outreach project which we are working on has also prepared graphics to highlight SEPs for which consumers may qualify. These graphics are specific to many of the reasons people could be eligible like the graphic below highlighting SEPs for individuals who are newly married. To learn more about what's available through this project, check out our blog post.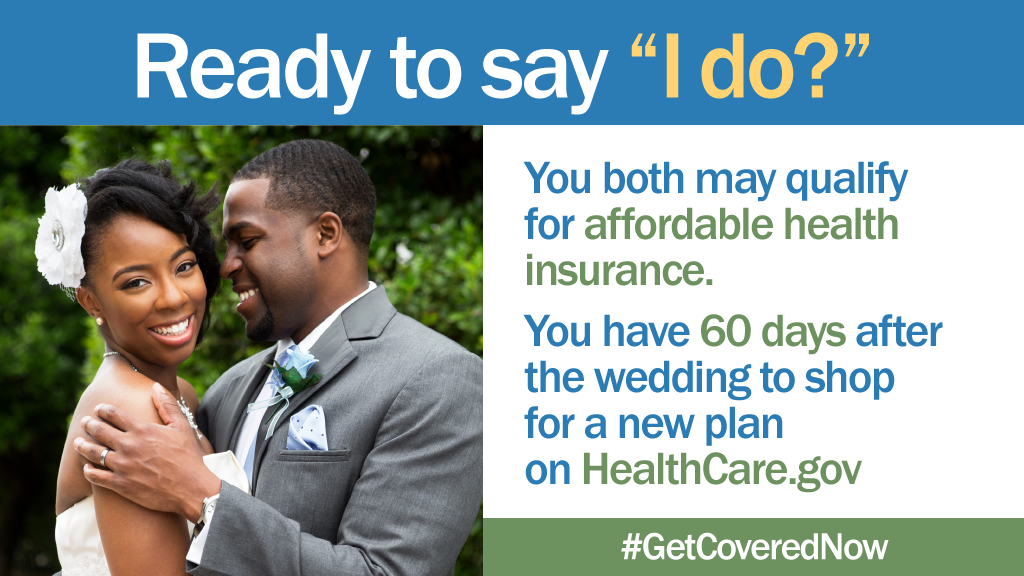 AAHD has partnered with CBPP on a project called the Consumer Assistance Coordination Hub (CACH). The CACH supports individuals and groups that provide enrollment assistance. To read more about this project, check out our blog post.
Last week, we highlighted the final rule that was released by CMS for the 2019 Notice of Benefit and Payment Parameters (NBPP). We have expressed concerns about what the NBPP could do for consumers, especially people with disabilities. Families USA has a new fact sheet entitled "Final 2019 Marketplace Rules from the Trump Administration Will Harm Consumers" which highlights these same concerns.
A new issue brief from the Kaiser Family Foundation takes a look at recent efforts by the Trump administration and some states to allow insurance companies to design plans which would not comply with the standards set out in the Affordable Care Act. To learn more about the brief or to download a copy, check out our news item.
One of the types of plans that the Kaiser brief looks at is Association Health Plans (AHP). A few weeks back we highlighted a series of blog posts by the Georgetown University Center on Health Insurance Reforms (CHIR) which looked at the comments made by various groups on the AHP proposed rules. These groups included state attorneys general, consumer advocates and insurers. CHIR has added two new blog posts which look at the comments from business groups and state departments of insurance.
Medicaid Awareness Month continues and the Protect Our Care Coalition has released a new fact sheet highlighting the benefits that Medicaid has for older adults. Speaking of Medicaid, in February we published a blog post  which captures all the news and resources on the waivers where states are adding work requirements to their Medicaid programs.
The University of Washington, Healthy Aging & Physical Disability, Rehabilitation Research Training Center (RRTC) has released two plain language summaries that address multiple sclerosis. They are entitled "Which MS Symptoms Affect Mood the Most?" and "Maintaining Resilience in the Face of MS." If you want to know more about assisting a consumer with multiple sclerosis enroll in the marketplace, the NDNRC also has a population specific fact sheet "What to Know When Assisting a Consumer with Multiple Sclerosis."
Are you looking for local partners to help with outreach to the disability community? The NDNRC has Community Outreach Collaboratives (COCs) which work to increase collaborations in the community, dissemination and outreach efforts and enrollment of people with disabilities in the ACA marketplace. You can find a COC, on the COC page of our website.
Archives of our weekly updates are available on the NDNRC website.