RATES OF UNINSURANCE ON THE RISE
Open Enrollment Year 8 (OE8) is approaching but there are already some indications that this could be one of the busier open enrollments thus far. Data from the American Community Survey was released this week and it shows that the rate of those without health insurance for 2019 rose to 9.2% (up from 8.9% in 2018). This was prior to the COVID-19 pandemic when unemployment rates went up and many people lost employer-based coverage, so in actuality, the uninsured numbers could be much higher. To learn more about these numbers, check out the reports from the Center on Budget and Policy Priorities (CBPP) and the Kaiser Family Foundation.
A report from the Georgetown University Center for Children and Families looks at the same survey numbers but with a focus on the uninsured rate among children which also rose to 5.7% in 2019 (up from 5.2% in 2018).
These reports highlight the importance of the upcoming OE8 and AAHD is once again working with Community Catalyst and other partners in conducting outreach to educate individuals about the ACA Marketplace. Links to graphics like the one below which highlight the availability of enrollment assistance are available in the Community Catalyst Outreach Hub.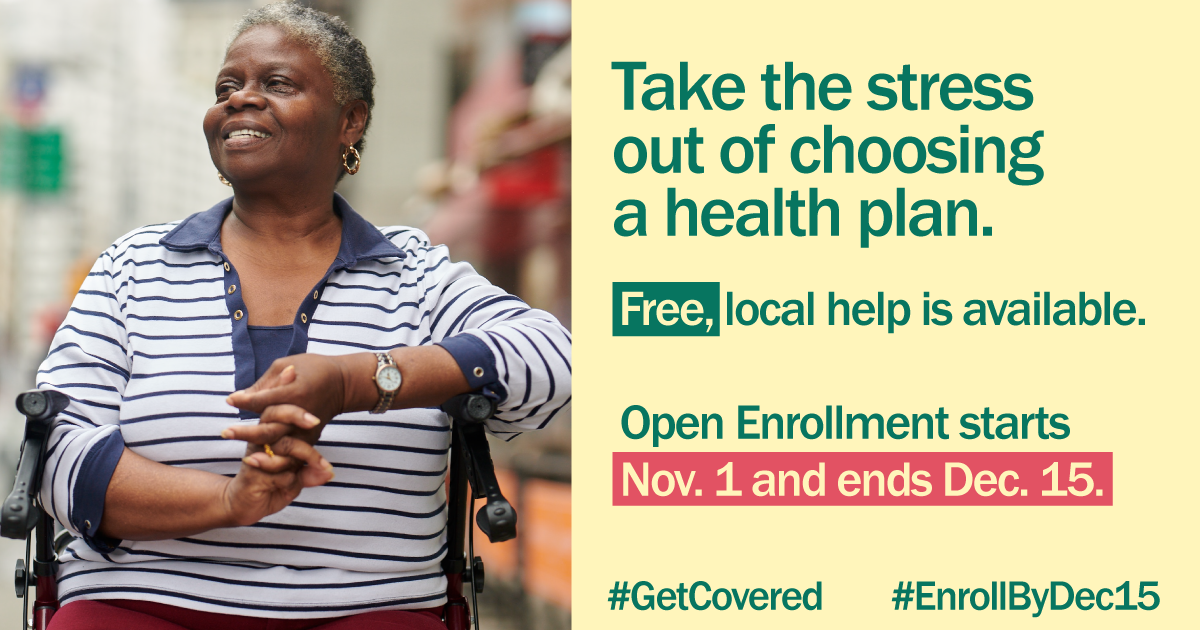 Additionally, Community Catalyst has created a COVID-19 messaging guide which includes new graphics and accompanying content.
Last week, we highlighted a waiver request filed by the state of Georgia with CMS which would allow them to bypass the healthcare.gov marketplace without setting up their own state-based exchange. Community Catalyst has a new blog post which addresses some of the concerns that such a waiver raises. It should be noted that the deadline to submit comments on George's request has been extended from September 16 to September 23.
On Tuesday, the Center on Budget and Policy Priorities (CBPP) started its nine-part Health Reform: Beyond the Basics webinar series. This webinar series provides technical assistance to navigators and other health insurance enrollment assisters and is designed to provide training in advance of OE8. Tuesday's webinar addressed the topic "Determining Households and Income for PTC and Medicaid". The slides and video recording can be found in our news item along with a complete list of the topics, dates and times of the scheduled webinars and links to register for them.
Are you wondering who's doing enrollment assistance in your state? CMS has released its list of funded navigators for the states in the federally facilitated marketplace (healthcare.gov).
A new blog post from the Georgetown University Center on Health Insurance Reforms (CHIR) reviews the current state of coverage through employer-based plans and some of the issues that now exist with these plans.
Another blog post from the CHIR looks at what states are doing with their Essential Health Benefit (EHB) benchmark plans. Five states (Illinois, Michigan, New Mexico, Oregon and South Dakota) have recently updated their EHB benchmarks.
Earlier this month, we released our comparative analysis report from our COVID-19 & Disability Survey. This report complements previously released summary and analysis reports of individual disability groups. All of the reports, summaries and infographics from the COVID-19 & Disability Survey are available on our COVID-19 & Disability Survey webpage. Additionally, links to all our COVID-19 videos as well as other resources on COVID-19 can be found on our COVID-19 resource page.
Archives of our weekly updates are available on the NDNRC website.