UPCOMING CHRIL WEBINARS
The Collaborative on Health Reform and Independent Living (CHRIL) will be hosting two webinars next week to highlight some of the research they have done. To learn more about what the two webinars will cover, please see our news item. Dates and times for the webinar along with links to access the Zoom webinars are as follows:
Last week, Young Invincibles held a virtual Outreach & Enrollment Summit for those doing enrollment assistance in the coming Open Enrollment Year 8 (OE8). Young Invincibles has set up a Google Drive Folder to provide access to presentation slides and other resources discussed during the summit.
AAHD is once again working with Community Catalyst and other partners in conducting outreach to educate individuals about the ACA Marketplace and Community Catalyst has created a COVID-19 messaging guide which includes new graphics and accompanying content. Links to graphics like the one below with COVID-19 messaging are also available in the Community Catalyst Outreach Hub.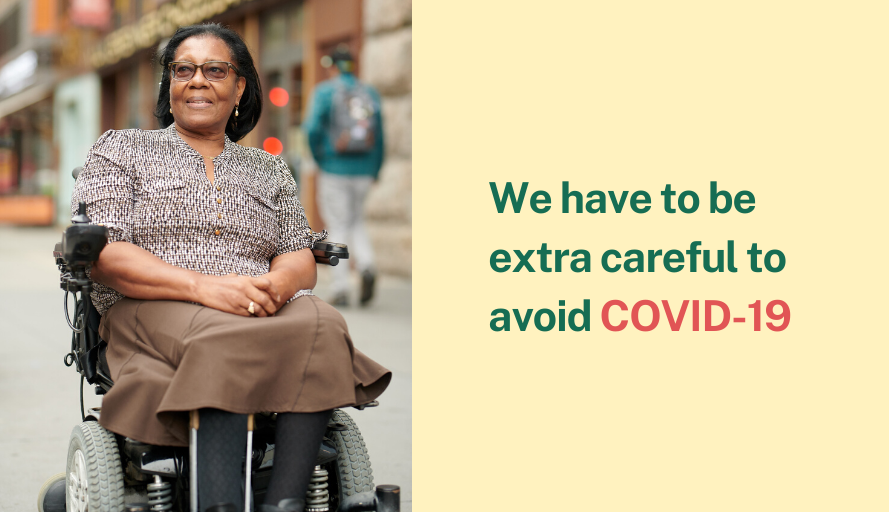 Community Catalyst and Faces & Voices of Recovery are looking for people with lived experiences of substance use challenges, including addiction, to help improve services. They are asking people to complete this survey to help define what "good" treatment and recovery services look like, how treatment and services should improve peoples' lives and if treatment and recovery goals change during a pandemic like COVID.
On Tuesday, the Center on Budget and Policy Priorities (CBPP) continued with the second of its nine-part Health Reform: Beyond the Basics webinar series. This webinar series provides technical assistance to navigators and other health insurance enrollment assisters and is designed to provide training in advance of OE8. Tuesday's webinar addressed the topic "Premium Tax Credits". The slides and video recording can be found in our news item along with a complete list of the topics, dates and times of the scheduled webinars and links to register for them.
The most recent blog post from the Georgetown University Center on Health Insurance Reforms (CHIR) looks at what states are doing with their Essential Health Benefit (EHB) benchmark plans. Five states (Illinois, Michigan, New Mexico, Oregon and South Dakota) have recently updated their EHB benchmarks.
Earlier this month, we released our comparative analysis report from our COVID-19 & Disability Survey. This report complements previously released summary and analysis reports of individual disability groups. All of the reports, summaries and infographics from the COVID-19 & Disability Survey are available on our COVID-19 & Disability Survey webpage. Additionally, links to all our COVID-19 videos as well as other resources on COVID-19 can be found on our COVID-19 resource page.
Archives of our weekly updates are available on the NDNRC website.