OPEN ENROLLMENT HAS BEGUN
Open Enrollment Year 8 (OE8) started on Sunday! For the opening of OE8, we released a blog post highlighting all the relevant resources available on the NDNRC website, including our Disability Guide and fact sheets.
Are you looking for resources to help with outreach for the upcoming OE8? AAHD is once again working with Community Catalyst and other partners in conducting outreach to educate individuals about the ACA Marketplace. This outreach includes graphics like the one below which highlight the availability of assistance. These graphics are available in the Community Catalyst Outreach Hub.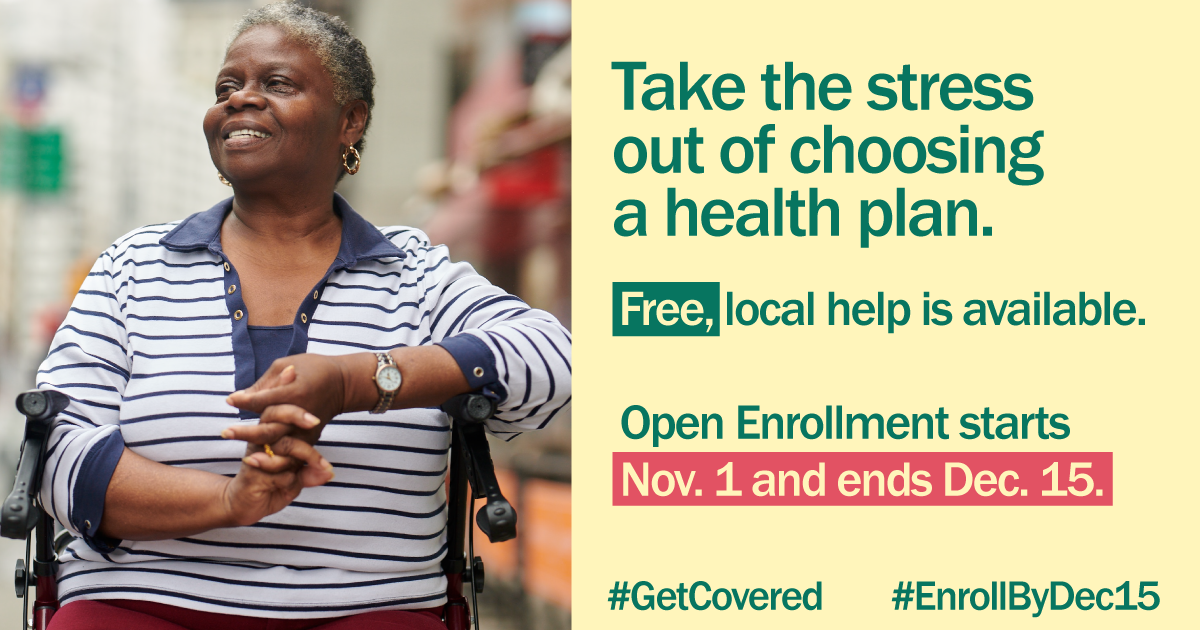 In recognition of the start of OE8, the Center on Budget and Policy Priorities (CBPP) posted a blog last Friday which highlights all the reasons why consumers should visit healthcare.gov during open enrollment.
CBPP has also released a two-page explainer on next week's Supreme Court case of California v. Texas which challenges the constitutionality of the Affordable Care Act. If you want to learn more about the court case, you can also check out our prior news item.
The California v. Texas case will be heard by the Supreme Court on Tuesday and Young Invincibles is hosting a Twitter chat on Tuesday, November 10 from 3:00-4:00 PM ET on the Supreme Court case and the ACA. You can follow along using the #TodaysVoicesTues.
The Georgetown University Center on Health Insurance Reforms (CHIR) has a blog post on next week's Supreme Court case which addresses what would happen with state attempts to protect people with pre-existing conditions if the ACA were struck down by the Supreme Court.
The CHIR has a blog series for OE8 entitled the Navigator Guide FAQs of the Week. This week's topic is "Who Is Eligible to Purchase Coverage Through the Marketplace?"  If you are looking for a comprehensive tool to provide guidance as you conduct enrollment assistance, check out the CHIR Navigator Resource Guide.
Another blog post by CHIR looks at what states are doing to ensure access to a COVID-19 vaccine for individuals enrolled in private health insurance plans.
The Kaiser Family Foundation recently released a report on their annual survey of state Medicaid directors regarding state Medicaid budgets. You can read more about this report in our news item.
In advance of OE8, CBPP conducted a nine-part Health Reform: Beyond the Basics webinar series. This webinar series provides technical assistance to navigators and other health insurance enrollment assisters and is designed to provide training in advance of OE8. This included our presentation on "Best Practices When Assisting People with Disabilities." The slides and video recordings for this and the other webinars in the series can be found in our news item.
Archives of our weekly updates are available on the NDNRC website.