THANKFUL FOR COVERAGE
With the Thanksgiving holiday next week, we will not be having an NDNRC update. We will return on December 4th.
As we conclude week 3 of Open Enrollment Year 8 (OE8) and enter the week of Thanksgiving, we at AAHD are giving thanks for coverage. We will be co-hosting a Twitter chat with Young Invincibles on Tuesday, November 24 at 3 PM ET. You can follow along on our AAHD Twitter account or by using the #TodaysVoicesTues & #ThankfulForCoverage.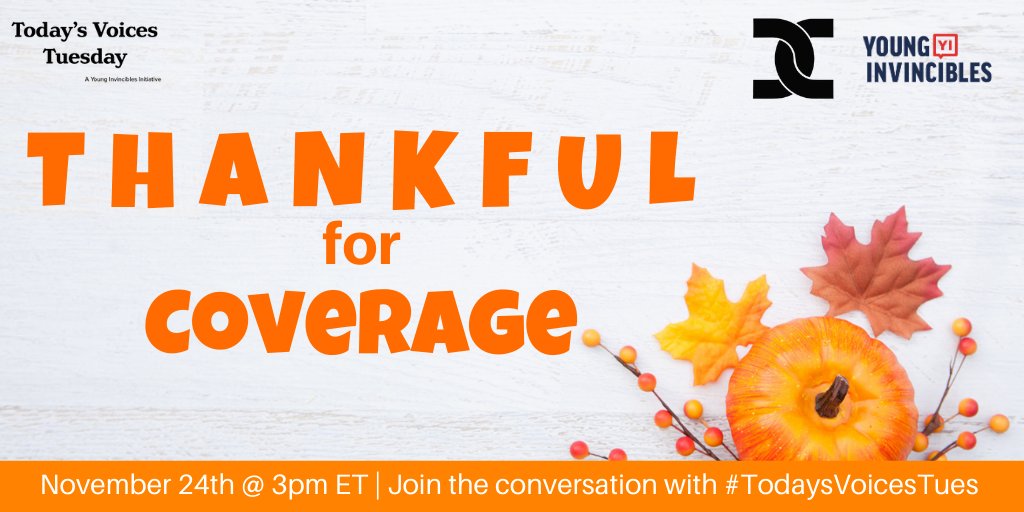 Yesterday, CMS issued its Week Two Enrollment Snapshot. This snapshot shows that through the first 14 days of OE8, over 1.6 million consumers had selected plans through healthcare.gov. This does not include consumers who enrolled in a state-based marketplace, including the new state-based marketplaces in New Jersey & Pennsylvania. It should be noted that when comparing enrollment numbers from OE7, that these two states were included in the OE7 numbers since they were still part of the federally facilitated marketplace at healthcare.gov.
If you are looking for resources to help with outreach for OE8, AAHD is working with Community Catalyst and other partners in conducting outreach to educate individuals about the ACA Marketplace. This outreach includes graphics like the one below which highlight our message of thankfulness during this time year. These graphics are available in the Community Catalyst Outreach Hub.
The Center on Budget and Policy Priorities (CBPP) recently released Spanish versions of some of their consumer assistance resources. English and Spanish versions of the resources can be found at the links below:
In advance of OE8, CBPP conducted a nine-part Health Reform: Beyond the Basics webinar series. This webinar series provides technical assistance to navigators and other health insurance enrollment assisters and is designed to provide training in advance of OE8. This included our presentation on "Best Practices When Assisting People with Disabilities." The slides and video recordings for this and the other webinars in the series can be found in our news item. CBPP hosted an additional webinar last week on Health Reimbursement Arrangements.
The Georgetown University Center on Health Insurance Reforms (CHIR) has a blog series for OE8 entitled the Navigator Guide FAQs of the Week. This week's topic is "Comparing Plans"  If you are looking for a comprehensive tool to provide guidance as you conduct enrollment assistance, check out the CHIR Navigator Resource Guide.
The CHIR also has a blog post this week which highlights rule changes over the last few years which have redefined the meaning of coverage under the ACA and the potential issues that result.
For the opening of OE8, we released a blog post highlighting all the relevant resources available on the NDNRC website, including our Disability Guide and fact sheets.
Last week, the Supreme Court heard oral arguments in the California v. Texas case. California v. Texas centers on the issue of the constitutionality of the ACA's individual mandate. If you want to learn more about the case, we posted a blog explaining the case and highlighting a number of resources on the importance of the case.
Archives of our weekly updates are available on the NDNRC website.