OE8 ENDS – CAN YOU STILL GET COVERED?
Please note: with the upcoming holidays, we will not have a NDNRC Update the next two weeks. The NDNRC Update will return January 8th. Happy Holidays from AAHD & Happy New Year!
While Open Enrollment Year 8 (OE8) ended on Tuesday for most, there is still an opportunity for some people to enroll in health insurance for 2021. OE8 ended on December 15 for markets on the federally facilitated exchange (healthcare.gov). Some states which run their own state-based marketplace (SBM) have a deadline that allows for more time for people to complete their enrollment. Eleven states with a SBM allow for additional time for people to complete their enrollment, including both new SBMs (New Jersey & Pennsylvania). For a complete list of all the states where OE8 is still active, check out our blog post.
While OE8 has concluded for most, did you know that you can enroll in Medicaid at any time of year? If you are looking for resources to help with outreach on Medicaid enrollment, AAHD is working with Community Catalyst and other partners in conducting outreach to educate individuals about health insurance enrollment through Medicaid and the ACA Marketplace. This outreach includes graphics like the one below which highlight the ability to enroll in Medicaid at any time of year. These graphics are available in the Community Catalyst Outreach Hub.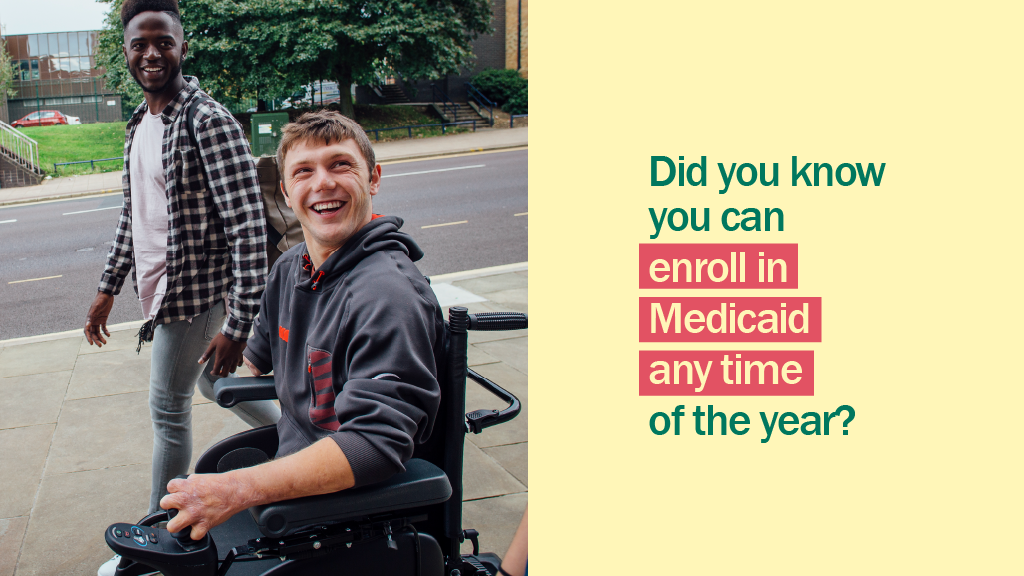 CMS and the IRS have recently stated that individuals who were notified about not reconciling their income tax and premium tax credits will not automatically lose their rights to premium tax credits to which they are entitled due to the current backlog with the IRS. Consumers who have been told that they have been flagged for "failure to reconcile" need only to self-attest that they have reconciled their tax credits for prior years. You can read more about reconciling tax credits on the IRS website.
The Georgetown University Center on Health Insurance Reforms (CHIR) has a blog series for OE8 entitled the Navigator Guide FAQs of the Week. This week's topic is "COVID-19 Pandemic Concerns." If you are looking for a comprehensive tool to provide guidance as you conduct enrollment assistance, check out the CHIR Navigator Resource Guide.
The CHIR also has a blog post examining what it means for states to run their own reinsurance programs.
A new report from the Kaiser Family Foundation looks at how the COVID-19 pandemic has affected health insurance coverage. To learn more about the findings from the Kaiser report or for a link to the report, check out our news item.
Previously we noted that CMS had issued its proposed Notice of Benefit and Payment Parameters (NBPP) for the 2022 plan year. The NBPP is the regulatory framework which CMS uses to operate the federally facilitated marketplace (healthcare.gov). More recently, CMS has also issued its draft letter that it will send to insurance companies regarding the 2022 marketplace. For links to the proposed rules, the CMS press release, the summary fact sheet on the NBPP and the draft letter to issuers, check out our news item. Comments on the proposed rules are due by December 30, 2020.
To learn more about the meaning of the draft letter to the issuers, check out the blog post from Health Affairs.
Archives of our weekly updates are available on the NDNRC website.