NEW COVID SEP ANNOUNCED
Yesterday, the Biden administration announced that it would be opening up the health insurance marketplace (healthcare.gov) for a Special Enrollment Period (SEP) stating that the SEP "will give Americans that need health care coverage during this global pandemic the opportunity to sign up." The SEP will run from February 15 – May 15, 2021. For links to President Biden's Executive Order, the White House statement, the HHS press release or the CMS fact sheet, check out our news item.
While the new SEP does not start until February 15, there is still an opportunity for some people to enroll in health insurance for 2021. Some states run their own state-based marketplace (SBM) and have a deadline which still allows people to enroll in coverage. Four state SBMs are still open and allowing people time to complete their enrollment, and OE8 in these jurisdictions ends this weekend. The four SBMs which remain open until Sunday, January 31 are California, DC, New Jersey and New York. A complete list of all the SBM deadlines for open enrollment can be found in our blog post.
If you are in one of those four SBM states and are looking for resources to help you highlight the ongoing open enrollment, AAHD has a project where we are working with Community Catalyst and other partners in conducting outreach to educate individuals about health insurance enrollment through the ACA Marketplace. This outreach includes graphics like the one below which highlight the SBM open enrollment deadline for those four states. These graphics are available in the Community Catalyst Outreach Hub.
FOR CA, DC, NJ & NY ONLY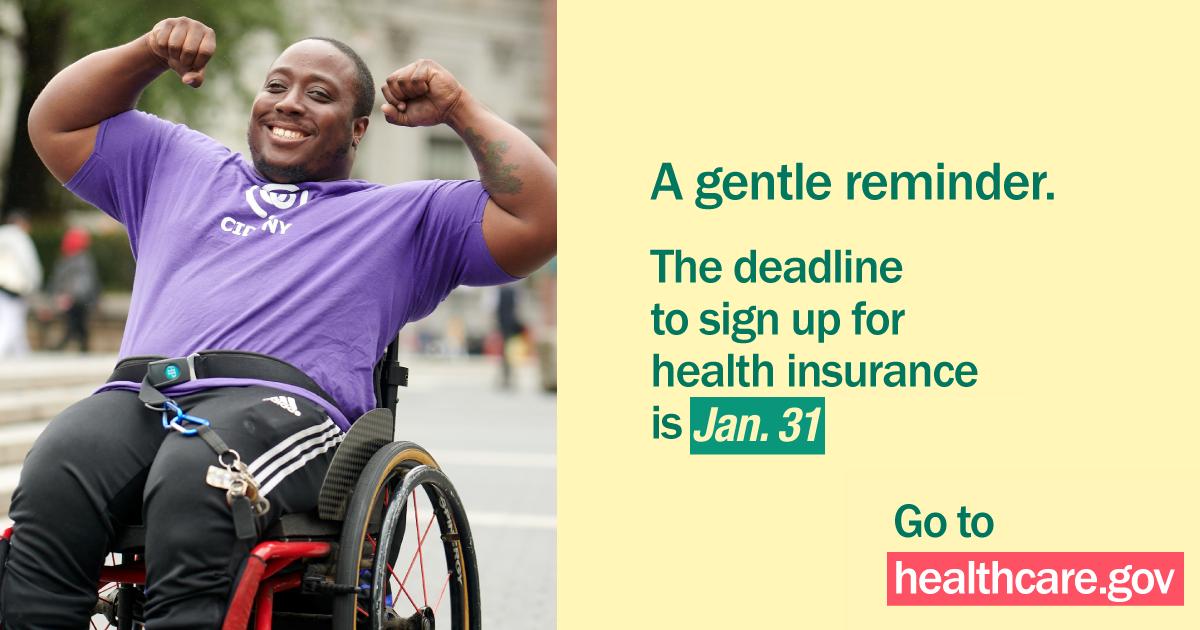 It should be noted that Medicaid enrollment is year-round and earlier this month we announced a new project in partnership with Community Catalyst in which we will be conducting Medicaid outreach to raise awareness about the potential enrollment in the program for individuals without health insurance. If you want to learn more about the Medicaid Outreach Partnership, check out our blog post.
The NIDILRR-funded Collaborative on Health Reform and Independent Living (CHRIL) at the University of Kansas is looking for adults with disabilities to complete an online survey about health insurance, health care access and the current pandemic. To complete the survey, go to: 2021 National Survey on Health and Disability. For more information on who should complete the survey and to learn about the drawing they are having for gift cards, check out our news item.
In last week's newsletter, we highlighted a blog post by the Georgetown University Center on Health Insurance Reforms on comments submitted by insurance companies to the proposed Notice of Benefit and Payment Parameters (NBPP) for 2022. They released another series on their blog addressing comments submitted by state insurance departments. All of these comments were submitted prior to CMS's release of the final NBPP which was released on January 19. You can read more about the final NBPP in our news item.
Archives of our weekly updates are available on the NDNRC website.