MORE COVID SEPS
Last week, we highlighted the Biden administration's announcement that it would be opening up the health insurance marketplace for a Special Enrollment Period (SEP) due to the COVID pandemic. Of course, this announcement only affects people who live in states that are on the federally facilitated marketplace (healthcare.gov). Many State Based Marketplaces (SBMs) have also announced that they will be opening SEPs as well. For a full list of SBMs who have announced COVID SEPs, check out our blog post. If you want to read more about last week's announcement regarding the COVID SEP for the federally facilitated marketplace, check out our news item.
To read more about what the federal and state governments are doing to increase access to coverage during COVID, check out the blog post from the National Academy for State Health Policy.
What will the effect of the COVID SEPs be on enrollment? The Georgetown University Center on Health Insurance Reforms (CHIR) has a blog post this week which highlights a report they did with the Commonwealth Fund which examines the effect that last year's SEPs by the SBMs had on enrollment.
While the COVID SEP for healthcare.gov was a large part of the executive order signed by President Biden, there were other portions of the executive order which had effects on other types of health care coverage, including Medicaid. To read more about what the executive order means for Medicaid, check out these blog posts from the Center on Budget and Policy Priorities, Community Catalyst and Health Affairs.
It should be noted that Medicaid enrollment is year-round and last month we announced a new project in partnership with Community Catalyst in which we will be conducting Medicaid outreach to raise awareness about the potential enrollment in the program for individuals without health insurance. If you want to learn more about the Medicaid Outreach Partnership, check out our blog post.
Speaking of Medicaid enrollment being year-round, AAHD has another project with Community Catalyst and other partners in conducting outreach to educate individuals about health insurance enrollment through the ACA Marketplace and Medicaid. This outreach includes graphics like the one below which highlight year-round Medicaid enrollment. These graphics are available in the Community Catalyst Outreach Hub.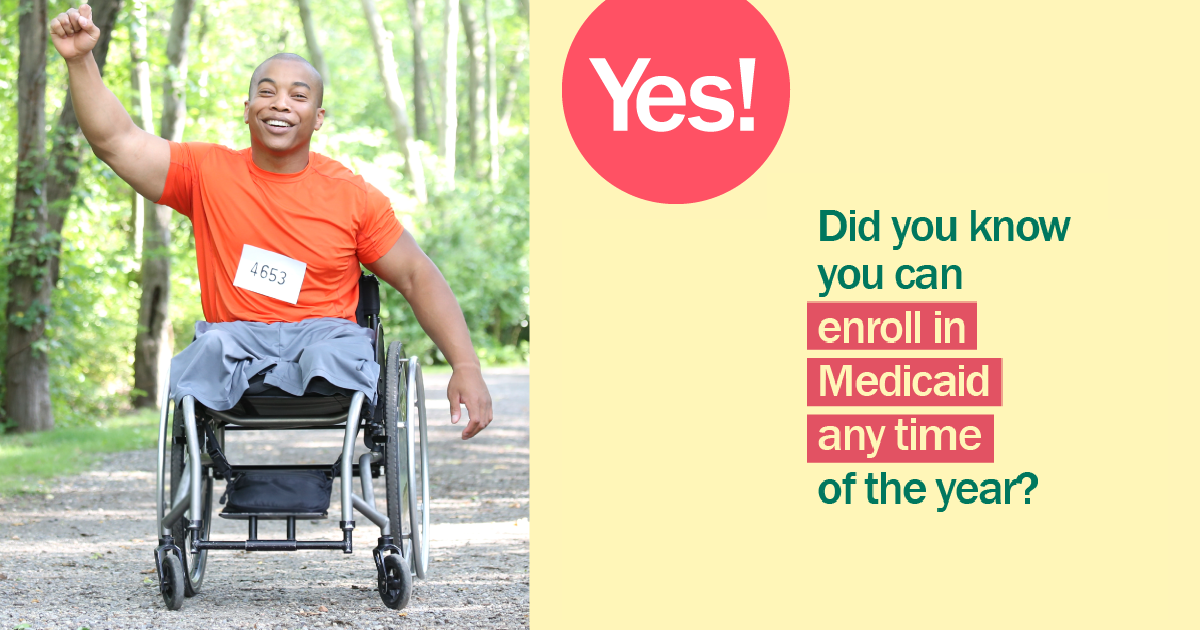 In prior newsletters, we highlighted the blog posts by the CHIR on comments submitted by different interest groups to the proposed Notice of Benefit and Payment Parameters (NBPP) for 2022. They recently released another blog post in this series focusing on comments submitted by consumer advocates. All of these comments were submitted prior to CMS's release of the final NBPP which was released on January 19. You can read more about the final NBPP in our news item.
Since 2018, AAHD has been doing outreach to the disability community on NIH's All of Us Research Program. This week, we were featured in a blog post by the National Association of County and City Health Officials (NACCHO) which outlines the rationale found in our Call to Action for why people with disabilities should get involved with the All of Us Research Program. If you want to read more about AAHD's efforts in this program, check out the All of Us page on our website.
Archives of our weekly updates are available on the NDNRC website.