Today, February 15, 2021 marks the beginning of the COVID Special Enrollment Period (SEP). This SEP will last for three months and end on May 15, 2021. Last month's announcement of the Biden administration's executive order led to the COVID SEP for the federally facilitated marketplace. The COVID SEP only affects people who live in states that are on the federally facilitated marketplace (healthcare.gov). However, many State Based Marketplaces (SBMs) have also announced that they will be opening COVID SEPs as well. For a full list of SBMs who have announced COVID SEPs, check out our blog post from February 3, 2021.
Signing up for a healthcare plan offers you comprehensive coverage, without the fear of a denial or higher premiums due to pre-existing conditions. All plans cover doctor and hospital visits, prescription drugs, mental health treatment, and maternity care.  In addition, consumers receive free preventive care services, such as immunizations and health screenings.  Testing and treatment of COVID-19 are considered essential health benefits and are covered by all ACA plans.
So, if you are not enrolled in a health insurance plan, go to HealthCare.gov today. As for what documents you'll need to complete your enrollment, you'll need the following: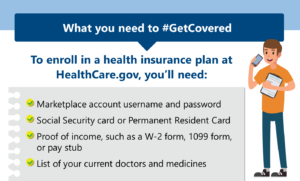 Marketplace account username and password (if you were enrolled in a plan previously)
Social Security card or Permanent Resident Card
Proof of income, such as a W-two form, 1099 form, or paystub
List of your current doctors and medicines
For more information about the SEP, including fact sheets and details about the health insurance marketplace, check out the HHS Press Release.