Open Enrollment Year 9 (OE9) started a week ago and CMS has designated this week as Disability Week of Action to encourage people with disabilities to review their health coverage for 2022 and determine if they need to make changes for the coming year. Throughout this week, AAHD will be participating in activities which highlight the opportunity which OE9 provides to the disability community and others who do not have health insurance or may just want to make changes for next year.
Throughout the week, we will be hosting social media activities and posting here on the NDNRC blog. Here is our schedule for the week. Later today, we will be posting a blog on "What the ACA Mean for People with Disabilities."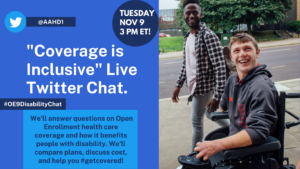 On Tuesday from 3:00-4:00 PM ET, we will be hosting a Twitter chat entitled "Coverage Is Inclusive." You can follow along tomorrow afternoon on our AAHD Twitter account or by following the #OE9DisabilityChat.
On Wednesday, we will be posting an updated version of a prior blog post "Important Statistics on Disability and Healthcare Coverage."
On Thursday, we will be hosting two Facebook live events at times to be determined. In these events, we will be conducting short interviews of people with disabilities who rely on ACA marketplace coverage. Follow our AAHD Facebook page to get more information as it becomes available.
We will conclude the week on Friday with our NDNRC Update newsletter highlighting the week's events and providing more resources to help assist people with disabilities find health coverage during OE9.