THE FINAL WEEK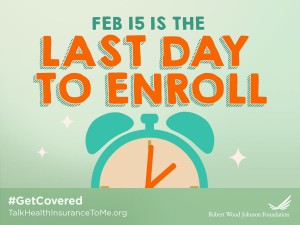 As we approach the final week of enrollment, the NDNRC wants to make sure you have all the resources and tools you need to help you in your outreach efforts. One great resource to assist is an initiative from the Robert Wood Johnson Foundation entitled "Talk Health Insurance to Me." This website is designed to help get the word out about the accessibility and affordability of coverage as well as the approaching deadline. They also have a great toolkit which includes some sample social media posts and tweets, shareable social media graphics, 30-second and 15-second videos, including videos produced with Comedy Central and Univision, template language for newsletters, downloadable posters and fliers and 30 second radio scripts. All of these resources are available in English and Spanish. Links to the website and toolkit can be found in our blog post by clicking here.
Earlier this week, we presented on a webinar for the New York Consumer Navigator Network on "Understanding the Health Coverage Needs of People with Disabilities." The webinar slide deck along with other archived webinar presentations are can be found on the NDNRC website. The webinar archives can be accessed by clicking here.
Many thanks to our New York Community Outreach Collaborative, the Center for Independence of the Disabled, NY (CIDNY) for setting up this webinar. For those of you in New York, we also wanted to make you aware of a paper written last year by CIDNY entitled "The ACA, Wellness Programs, and People with Disabilities." It provides a comprehensive look at the changes the ACA has made on wellness programs and the impact on people with disabilities. This paper can be found by clicking here. It can also be found on our New York page under state specific resources by clicking here.
In case you missed it, last week we announced the new NDNRC YouTube channel. This channel archives webinar recordings and includes other helpful videos that navigators and assisters can use in better understanding the needs of consumers with disabilities as they are considering their enrollment options. You can check out the NDNRC YouTube channel and subscribe to it by clicking here. The first video on our channel was an archived webinar we presented on January 15, 2015. This video can be accessed by clicking here. We've also added an introductory video to the channel and that video can be viewed by clicking here.
Are you looking for local partners to help with outreach to the disability community? The NDNRC has funded eleven Community Outreach Collaboratives (COCs) for the second year of enrollment. The COCs will increase collaborations in the community, dissemination and outreach efforts and enrollment of people with disabilities in the ACA. To find a COC, click here.