NEW FACT SHEET AVAILABLE ON PAST-DUE PREMIUMS
Please note: with the Thanksgiving holiday next week, we will not have a NDNRC Update. The NDNRC Update will return December 1st.
Earlier this year, HHS changed the rules for how marketplace insurers could address consumers who had fallen behind on their health insurance premiums. The Center on Budget and Policy Priorities (CBPP) has released a new fact sheet on the "Key Facts You Need to Know About: Past-Due Premiums in the Marketplace." To learn more about the fact sheet or to download a copy, check out our news item.
AAHD is partnering with the CBPP on a project called the Consumer Assistance Coordination Hub (CACH). The CACH supports individuals and groups that provide enrollment assistance. To read more about this project, check out our blog post.
AAHD is partnering with Community Catalyst on a project aimed at spreading awareness about the upcoming open enrollment period (with tools like the graphic below). If you want to read more about this project, check out our blog post.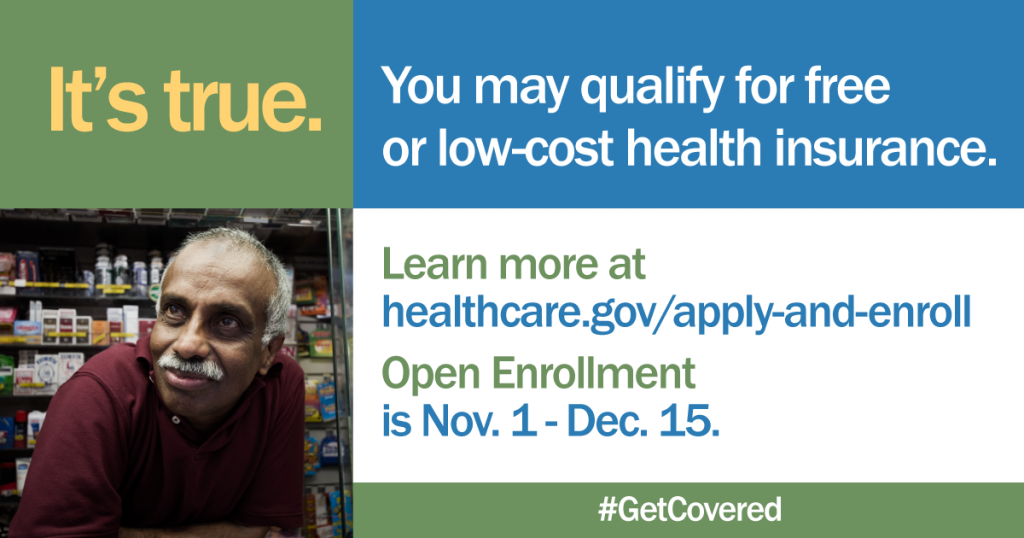 The Kaiser Family Foundation has released a new issue brief which examines how many consumers would be able to purchase plans through the marketplace for premiums that would be lower than the tax penalty they would have to pay. To learn more about the brief or to download a copy, check out our news item.
Kaiser Family Foundation also has a new interactive page addressing how much premiums have changed for 2018 both with and without the premium tax credit and what counties have plans that would cost less than what is available in premium tax credits. Along these lines, we previously highlighted two new calculators available from Kaiser to help consumers determine what financial assistance is available to help them pay for monthly health insurance premiums and what the tax penalty would be if they did not carry insurance in 2018. These calculators can be found at the following links:
We had previously reported on the proposed Notice of Benefit and Payment Parameters (NBPP) for the 2019 marketplace. CMS is accepting comments on the NBPP until November 27. Families USA is looking for help from navigators in preparing their comments and has a three question survey they are looking to have answered.
The dates for open enrollment this year are different than they were in prior years as Open Enrollment Year 5 (OE5) will end on December 15, 2017. These dates apply for marketplaces on the federally facilitated exchange (healthcare.gov). Some states who are running their own state-based marketplace will have an extended period for OE5. For a complete rundown of the dates for open enrollment in the state-based marketplaces, check out our blog post.
We are now over two weeks into OE5 and as of November 11, nearly 1.5 million people have enrolled in coverage through the marketplace, including 345,000 new customers. You can read more about the enrollment numbers in CMS's Weekly Enrollment Snapshot.
The University of Washington Healthy Aging Rehabilitation Research Training Center (RRTC) has released a fact sheet entitled "How to Stay Physically Active."
Are you looking for local partners to help with outreach to the disability community? The NDNRC has Community Outreach Collaboratives (COCs) which work to increase collaborations in the community, dissemination and outreach efforts and enrollment of people with disabilities in the ACA marketplace. You can find a COC, on the COC page of our website.
Archives of our weekly updates are available on the NDNRC website.