TWO NEW EXPLANATORY VIDEOS FROM CBPP
The Center on Budget and Policy Priorities (CBPP) has two new explanatory videos on immigrant subsidy eligibility and the auto-renewal process. These videos are available on YouTube:
The slides for these presentations are also available on our Resources & Links page under "Enrollment Resources – Overview."
AAHD is partnering with CBPP on a project called the Consumer Assistance Coordination Hub (CACH). The CACH supports individuals and groups that provide enrollment assistance. To read more about this project, check out our blog post. This past Monday, we had a Twitter chat with CBPP about the ACA and people with disabilities.
AAHD is partnering with Community Catalyst on a project aimed at spreading awareness about the upcoming open enrollment period (with tools like the graphic below). If you want to read more about this project, check out our blog post.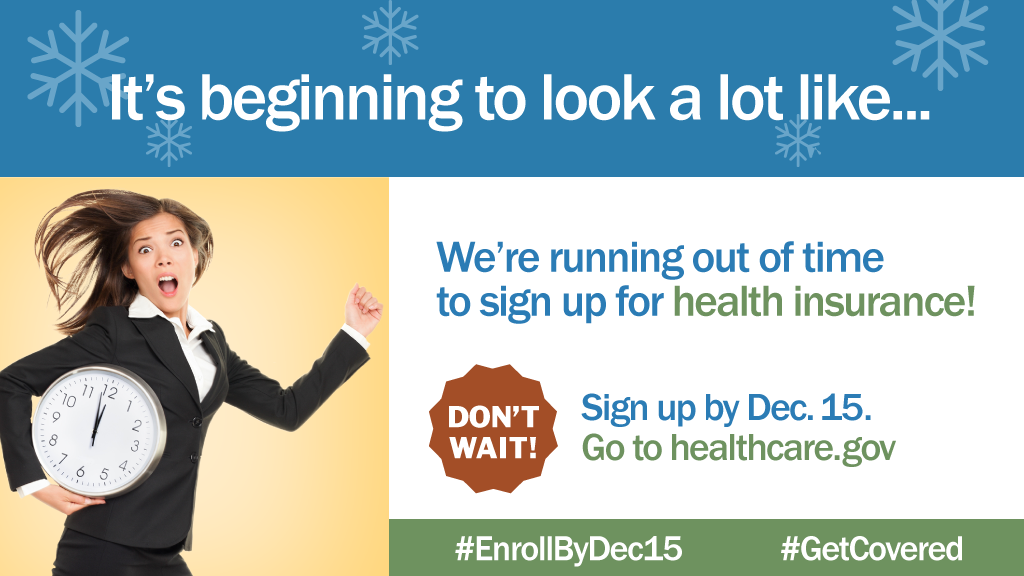 Do you have questions about some of the differences in the open enrollment process for 2018 compared to previous years? Check out the blog post from the Georgetown University Center on Health Insurance Reforms entitled "Shopping Tips for 2018 Open Enrollment."
If you have questions about how the current tax bill which is pending in Congress could affect health care and the ACA marketplace, check out the blog post on Health Affairs.
The dates for open enrollment this year are different than they were in prior years as Open Enrollment Year 5 (OE5) will end on December 15, 2017. These dates apply for marketplaces on the federally facilitated exchange (healthcare.gov). Some states who are running their own state-based marketplace will have an extended period for OE5. For a complete rundown of the dates for open enrollment in the state-based marketplaces, check out our blog post.
We are through the first month of OE5 and as of November 25, nearly 2.8 million people have enrolled in coverage through the marketplace, including 718,000 new customers. You can read more about the enrollment numbers in CMS's Weekly Enrollment Snapshot.
Last week, the Centers for Medicare & Medicaid Services (CMS) released the Eligibility Determinations and Enrollment Report from September 2017. This report can also be found on our Resources & Links page under "Enrollment Statistics." Prior Medicaid enrollment reports from CMS, are archived on our website.
The University of Washington Healthy Aging Rehabilitation Research Training Center (RRTC) has released a fact sheet entitled "How to Sleep Better."
Are you looking for local partners to help with outreach to the disability community? The NDNRC has Community Outreach Collaboratives (COCs) which work to increase collaborations in the community, dissemination and outreach efforts and enrollment of people with disabilities in the ACA marketplace. You can find a COC, on the COC page of our website.
Archives of our weekly updates are available on the NDNRC website.