HAPPY ACA ANNIVERSARY DAY!!
Today represents the eight-year anniversary of the Affordable Care Act (ACA) being passed into law. The Protect Our Care Coalition is using today to highlight the benefits of the ACA with graphics like the one below. You can follow the online conversation today on Twitter using the hashtag #ProtectOurCare.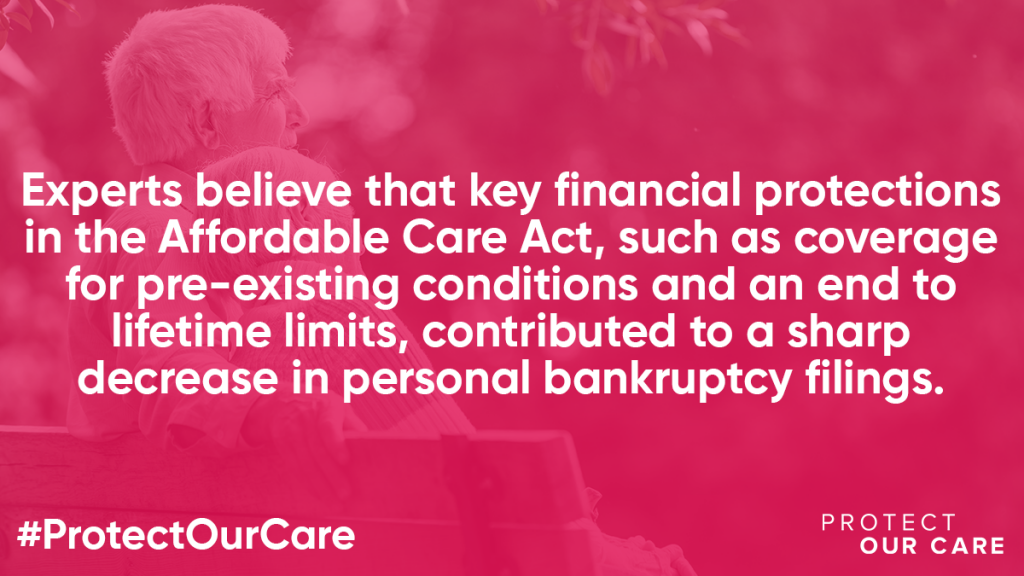 As we celebrate the anniversary of the ACA, the Urban Institute has a new report examining what insurers are planning to do for the marketplace in 2018 and 2019. To learn more about this report or to download a copy, check out our news item.
Last month we posted a blog article where we captured all the news and resources on the waivers where states are adding work requirements to their Medicaid programs. We continue to add new resources to this list. This week we added a report from the Georgetown University Center for Children and Families on the impact of Alabama's proposed Medicaid work requirement.
The Georgetown University Center on Health Insurance Reforms has a blog post this month looking at coverage-to-care and answers to common questions which consumers may have after enrollment. If you're interested in learning more about coverage to care for people with disabilities, check out our fact sheet entitled "Tips for ACA Enrollees: From Coverage to Care – Persons with Disabilities." As this fact sheet is aimed at consumers, we have also translated it into Spanish.
The Community Catalyst outreach project which we are working on has prepared graphics to highlight Special Enrollment Periods (SEPs) for which consumers may qualify. These graphics are specific to many of the reasons people could be eligible like the graphic below highlighting SEPs due to the loss of a spouse through either death or divorce. To learn more about what's available through this project, check out our blog post.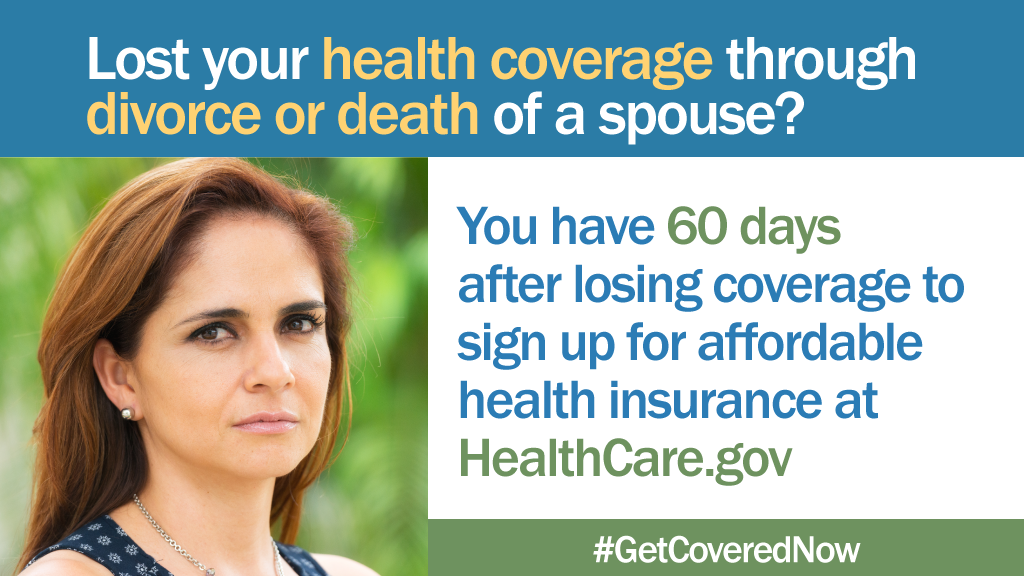 Last week we highlighted archived slides for a webinar from the Center on Budget and Policy Priorities (CBPP) on SEPs. They have since archived the video of this webinar as well. If you're looking for prior webinars conducted by CBPP, be sure to check out their webinar archive. AAHD has partnered with CBPP on a project called the Consumer Assistance Coordination Hub (CACH). The CACH supports individuals and groups that provide enrollment assistance. To read more about this project, check out our blog post.
Join the NASUAD Disability Business Acumen Center on March 28, 2018 from 12:30-1:30 PM ET as they present a webinar entitled "Supporting Community Based Organizations in their Move to Managed Care. One Health Plan's Experience." This webinar will be presented by Rachel Turner-Chinetti, Senior Director, LTSS Specialty Organizations and Taylor Burnette, Regional Manager for LTSS/IDD Provider Relations as they share their experience implementing a new LTSS system for people with I/DD in Tennessee. If you missed it, last week we highlighted the launch of the Business Acumen Center's website. On the website, you can also find archives of their prior webinars.
The University of Washington Healthy Aging Rehabilitation Research Training Center (RRTC) has released a plain language summary entitled "The Benefits of Having Friends with Similar Disabilities."
Are you looking for local partners to help with outreach to the disability community? The NDNRC has Community Outreach Collaboratives (COCs) which work to increase collaborations in the community, dissemination and outreach efforts and enrollment of people with disabilities in the ACA marketplace. You can find a COC, on the COC page of our website.
Archives of our weekly updates are available on the NDNRC website.