NEW FACT SHEET ON MEDICAID AND DISABILITY
Medicaid Awareness Month continues and the Protect Our Care Coalition has released a new fact sheet  this week which highlights the benefits that Medicaid has for people with disabilities. They also have an online drive with graphics highlighting the importance Medicaid plays in the lives of people with disabilities.
Speaking of Medicaid, in February we published a blog post  which captures all the news and resources on the waivers where states are adding work requirements to their Medicaid programs. This week we added a new fact sheet from Justice in Aging on how work requirements would harm older adults and their caregivers.
This week, comments were due on the Trump administration's proposed rules on short-term, limited-duration health insurance plans. The Kaiser Family Foundation has an issue brief that takes a closer look at these plans. To learn more about this brief or to download a copy, check out our news item.
AAHD has concerns about what these short-term, limited-duration health plans would do to the marketplace and has joined several coalition letters objecting to them. Links to those letters are as follows:
One of the partner organizations for the Community Catalyst outreach project which we are working on is Raising Women's Voices and this week they launched a new health insurance literacy quiz which asks whether you're getting the most out of your health insurance plan.
The Community Catalyst project has also prepared graphics to highlight SEPs for which consumers may qualify. These graphics are specific to many of the reasons people could be eligible like the graphic below highlighting SEPs for individuals who are moving. To learn more about what's available through this project, check out our blog post. Also, be sure to check out last week's announcement about the additional SEP for some people affected by hurricanes in 2017. That SEP continues until May 24.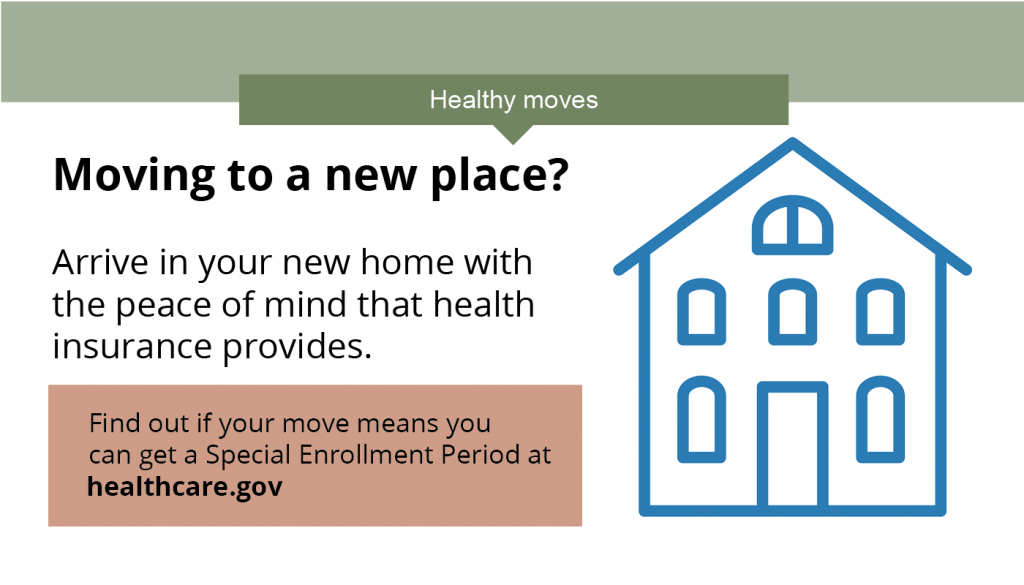 AAHD has partnered with CBPP on a project called the Consumer Assistance Coordination Hub (CACH). The CACH supports individuals and groups that provide enrollment assistance. To read more about this project, check out our blog post.
The Collaborative on Health Reform and Independent Living (CHRIL) is conducting an online survey of people with disabilities about getting and using health insurance and health care services. To learn more about the survey and how to enter a drawing to win one of the ten $100 gift cards that they are giving out weekly in April and May 2018, check out our news item. Currently, they are especially looking for people to complete the survey who are male, living in southern states or racial/ethnic minorities.
If you missed it last week, we announced that the CHRIL had posted a new online training module entitled "Medicare 101." To learn more about the course and for a link, check out our news item.
Another note on Medicare, CMS recently announced that they will be sending out new cards to Medicare beneficiaries. If you want to read more about this, check out Medicare's blog.
Th e University of Washington, Healthy Aging & Physical Disability, Rehabilitation Research Training Center (RRTC) has recently released a fact sheet entitled "Aging with a Disability: Tips for your Sex Life" and a related plain language summary entitled "The Importance of Sexual Function: Satisfaction and Use of Aids for Sexual Activity."
Are you looking for local partners to help with outreach to the disability community? The NDNRC has Community Outreach Collaboratives (COCs) which work to increase collaborations in the community, dissemination and outreach efforts and enrollment of people with disabilities in the ACA marketplace. You can find a COC, on the COC page of our website.
Archives of our weekly updates are available on the NDNRC website.