RESOURCES AVAILABLE FOR OE6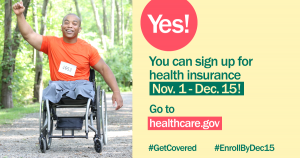 Open Enrollment Year 6 (OE6) is less than a week away, but there are resources available to help. AAHD is excited to announce that we are continuing to join Community Catalyst and other partners in this year's outreach project for Open Enrollment Year 6 (OE6) to educate individuals about enrolling for health insurance for 2019. Community Catalyst, with support from the Robert Wood Johnson Foundation, is serving as the national coordinating organization for an effort to spread awareness about the upcoming open enrollment period, from November 1st to December 15th. To read more about what this project will do, or for a link to access the online drive of images like the one to the right which can be used to highlight OE6, check out our blog post.
Young Invincibles is a partner organization on the Community Catalyst project and they've created an Open Enrollment Toolkit which highlights key messages and sample posts to help with open enrollment outreach efforts.
The Georgetown University Center on Health Insurance Reforms (CHIR) has updated their navigator guide to reflect changes in the marketplace for the 2019 plan year. They also highlight many of the changes in a recent post in their blog.
If you missed it, last week we presented on Center on Budget and Policy Priorities' (CBPP) fall "Beyond the Basics" webinar series. In the webinar entitled "Best Practices When Assisting People with Disabilities Enroll in Health Coverage," we addressed disability etiquette and basic accessibility considerations for anyone doing enrollment work, as well as provided an overview of questions a person with a disability needs to think about when considering their health care options in the marketplace. The slides and video recording for this webinar are available on the NDNRC website under "Webinars & Presentations."
With the start of open enrollment, be sure to check out our social media toolkit for Medicaid. The toolkit provides sample social media posts as well as graphics and relevant hashtags which can be combined to promote the importance of the Medicaid program and how important it is for people with disabilities. The toolkit also provides lists of social media accounts to follow, digital materials, our news stories on Medicaid work requirements and Medicaid statistics. The toolkit is available on the NDNRC website where it can be downloaded as a zip drive.
In February we published a blog post  which captures all the news and resources on states who are adding work requirements to their Medicaid programs. We recently added a fact sheet from CBPP entitled "Michigan's Waiver Proposal Would Undermine Its Successful Medicaid Expansion."
On Monday, the Trump Administration announced new guidance on Section 1332 of the Affordable Care Act which would provide states with the opportunity to make changes to marketplaces in their own states and potentially bypass some of the protections built into the ACA. To learn more and for links to the CMS guidance, press release and fact sheet, as well as links to publications on this topic from Families USA, Health Affairs and NASHP, check out our news item.
This week, the Centers for Medicare & Medicaid Services (CMS) released the Eligibility Determinations and Enrollment Report from August 2018. This report can also be found on our Resources & Links page under "Enrollment Statistics." Prior Medicaid enrollment reports from CMS, are archived on our website.
If you want to learn more about our new project with the NIH's All of Us Research Project, check out the Frequently Asked Questions document about the program. We will also be holding two events this Wednesday, October 31, 2018 about All of Us: a Twitter chat at 12:30 ET and a webinar with the University of Montana Rural Institute at 2:00 PM ET. You can learn more about both of these events in our flyer and pre-register for the webinar.
Join the NASUAD Disability Business Acumen Center on Wednesday, October 31, 2018 from 12:30-1:30 PM ET as they present a webinar entitled "It's Never Too Late to Change: How One Organization Embraced Opportunity." This webinar will be presented by Deborah Danner-Gulley from the Area Agency on Aging, District 7 (AAA7) in Ohio, as she describes how they transformed their business model to one that ensures compliance with managed care contractual obligations and enhanced their organizations ability to be more data and outcome focused. You can also learn more about what AAA7 is doing in this YouTube video.
Are you looking for local partners to help with outreach to the disability community? The NDNRC has Community Outreach Collaboratives (COCs) which work to increase collaborations in the community, dissemination and outreach efforts and enrollment of people with disabilities in the ACA marketplace. You can find a COC, on the COC page of our website.
Archives of our weekly updates are available on the NDNRC website.