AAHD TO CONDUCT ACA OUTREACH FOR OE7
AAHD is excited to announce that we will once again join Community Catalyst and other partners in conducting outreach for Open Enrollment Year 7 (OE7). As was the case last year, this project will educate individuals about enrolling for health insurance for 2020. Community Catalyst, with support from the Robert Wood Johnson Foundation, is serving as the national coordinating organization for an effort to spread awareness about the upcoming open enrollment period, from November 1st to December 15th. Through this project, Community Catalyst will:
Create plain-language consumer-facing materials advertising the upcoming open enrollment period and special enrollment period. Materials will emphasize key messages around financial assistance, in-person help and the length of the open enrollment period. Materials will also include information consumers will need to enroll, benefits of health coverage and enrollment considerations for populations like immigrants.
Partner with national organizations to disseminate the materials and raise awareness.
Target key populations who may be eligible for marketplace coverage including people with disabilities, young adults, immigrant communities, persons of color and persons who identify as LGBTQ.
The project will develop images like the ones from last year (pictured below) and materials to assist with open enrollment. A complete list of the national partners working with Community Catalyst can be found in our news item.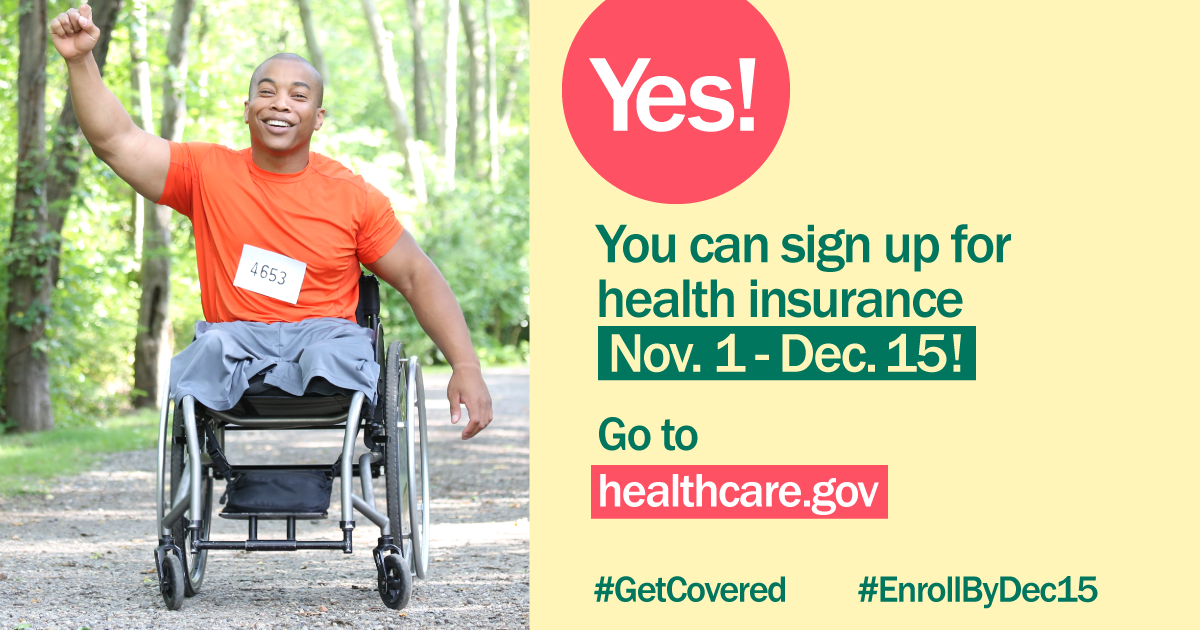 If you missed it last week, we also will be working again with the Center on Budget and Policy Priorities (CBPP) again to provide technical assistance to navigators and other health insurance enrollment assisters. As part of this work, CBPP will once again be conducting its fall "Beyond the Basics" webinar series and they have announced the schedule for the first six of these webinars. For the full list of dates and times for the webinars as well as links to register, check out our news item. Also, be on the lookout for news on future webinars with CBPP as we will be conducting one for them addressing disability and health insurance enrollment.
Are you looking for local partners to help with outreach to the disability community? The NDNRC has Community Outreach Collaboratives (COCs) which work to increase collaborations in the community, dissemination and outreach efforts and enrollment of people with disabilities in the ACA marketplace. You can find a COC, on the COC page of our website.
Archives of our weekly updates are available on the NDNRC website.