OE7 JUST TWO WEEKS AWAY
Open Enrollment Year 7 (OE7) is just two weeks away, and AAHD is once again joining Community Catalyst and other partners in conducting outreach for OE7. As was the case last year, this project will educate individuals about enrolling for health insurance for 2020. Be on the lookout for graphics like the one below which we'll be using to highlight the coming open enrollment. You can read more about this project in our news item.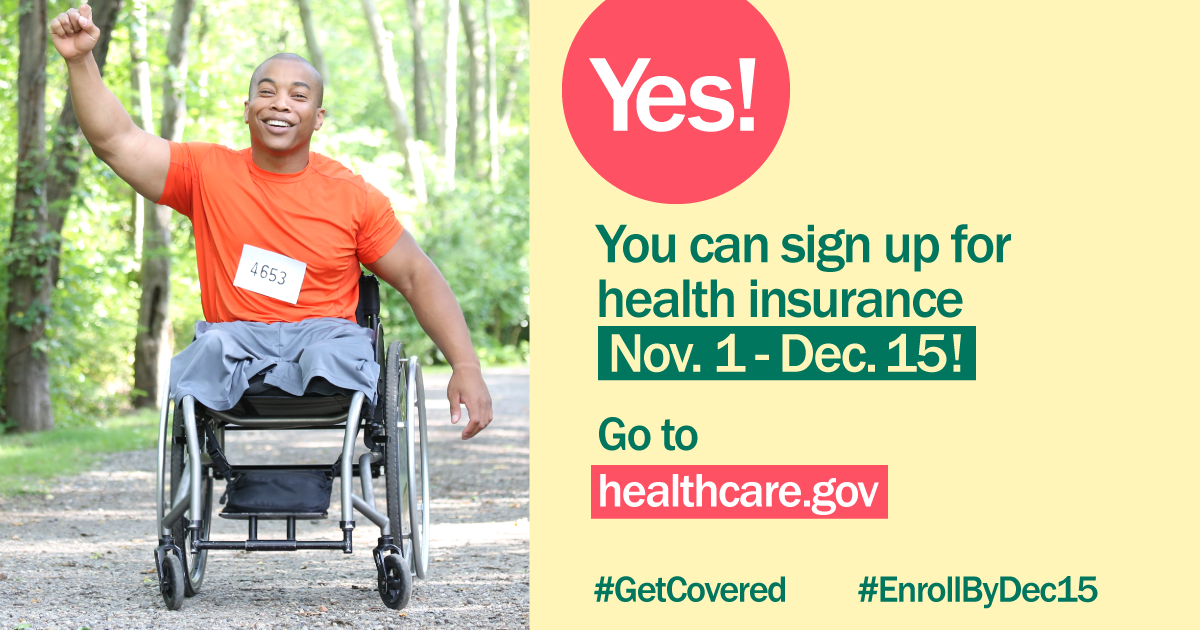 To assist you with outreach during OE7, Young Invincibles has put out an Open Enrollment Toolkit. The toolkit includes helpful messaging reminders, information on this year's tax credits and the calendar for outreach activities that will be conducted during OE7. Of note, AAHD will be leading a Disability Week of Action on November 17-23.
A report from the Kaiser Family Foundation updated their analysis on how many individuals would be affected if the ACA's protections for people with pre-existing conditions were eliminated. To learn more about Kaiser's analysis or for a link to the report, check out our news item.
A few states are transitioning from federally facilitated marketplaces (FFMs) on healthcare.gov to running their own state-based marketplaces (SBMs). A new blog post from the Georgetown University Center on Health Insurance Reforms (CHIR) highlights the findings in a report that they did with the Urban Institute which examines why states are moving away from FFM status towards SBMs.
A new report from the Government Accountability Office (GAO) indicates that states that added work requirements to their Medicaid programs have spent millions of dollars to administer them. In fact, the GAO says that it could be over $250 million spent by states in just administrative costs to implement these work requirements. If you're looking for more resources on Medicaid work requirements, check out our blog post where we have a summary of all news items and resources on the topic.
If you're interested in learning more about the difference in the Medicaid program as it varies from state to state, check out this news item from Kaiser Health News.
If you missed our earlier announcements, we will once again be working with the Center on Budget and Policy Priorities (CBPP) on a project providing technical assistance to assisters during OE7. Our work with CBPP will include a webinar as part of their "Beyond the Basics" webinar series. You can read more about that and other CBPP webinars in our news item.
Last week, we also announced the launch of our Health Insurance Literacy Academy (HILA) which will develop, implement, and evaluate health insurance trainings for CIL staff so that they can empower people with disabilities to make informed decisions regarding private and public health insurance coverage. To read more about the HILA, check out our blog post.
The NIDILRR-funded Collaborative on Health Reform and Independent Living (CHRIL) is looking for adults with disabilities to complete an online survey about health insurance and health care services. For more information on the survey and to learn about the drawing they are having for gift cards, check out our news item.
Are you looking for local partners to help with outreach to the disability community? The NDNRC has Community Outreach Collaboratives (COCs) which work to increase collaborations in the community, dissemination and outreach efforts and enrollment of people with disabilities in the ACA marketplace. You can find a COC, on the COC page of our website.
Archives of our weekly updates are available on the NDNRC website.