OPEN ENROLLMENT STARTS TODAY!
Open Enrollment Year 7 (OE7) begins today and if you're looking for resources to help you serve people with disabilities, check out today's news item. The news item includes links to a promotional brochure to use for people with disabilities, our disability guide and all our fact sheets.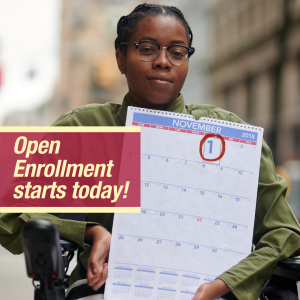 For OE7, AAHD is once again joining Community Catalyst and other partners in conducting outreach for OE7. As was the case last year, this project will educate individuals about enrolling for health insurance for 2020. Community Catalyst has launched its Outreach Hub which includes resources to use by those who are doing open enrollment outreach. The Outreach Hub includes graphics like the one to the right which can be used to highlight the start of open enrollment. To learn more about what's included in the Outreach Hub, check out our news item. To learn more about the project we are doing with Community Catalyst, check out our earlier news item.
Yesterday, AAHD presented on a webinar as part of the "Beyond the Basics" webinar series from the Center on Budget and Policy Priorities (CBPP). This webinar series provides technical assistance to assisters during OE7. The webinar entitled "Best Practices When Assisting People with Disabilities Enroll in Health Coverage" has been archived. The slides and eventually the video recording will be available on our "Webinar/Presentations" page. You can view the archives for all of the "Beyond the Basics" webinar series in our news item and also on our Resources/Links page under "Enrollment Resources: Overview."
CBPP also has a blog post this week entitled "5 Good Reasons to Visit HealthCare.gov During Open Enrollment."
To assist you with outreach during OE7, Young Invincibles has put out an Open Enrollment Toolkit. The toolkit includes helpful messaging reminders, information on this year's tax credits and the calendar for outreach activities that will be conducted during OE7. Of note, AAHD will be leading a Disability Week of Action on November 17-23. If you're interested in working with us on the Disability Week of Action, please contact Karl Cooper.
The Georgetown University Center on Health Insurance Reforms (CHIR) has updated its Navigator Resource Guide. The CHIR Guide answer questions about eligibility for insurance coverage or subsidies, health plan choices on- and off-marketplace, issues for small employers, coverage post-enrollment, and more. If you're interested in learning what additions they made, check out the "What's New in 2020" section.
In preparation for open enrollment, the Kaiser Family Foundation has released FAQs on the health insurance marketplace in the ACA. The FAQs are searchable and deal with a wide range of topics.
The NIDILRR-funded Collaborative on Health Reform and Independent Living (CHRIL) is looking for adults with disabilities to complete an online survey about health insurance and health care services. For more information on the survey and to learn about the drawing they are having for gift cards, check out our news item.
Are you looking for local partners to help with outreach to the disability community? The NDNRC has Community Outreach Collaboratives (COCs) which work to increase collaborations in the community, dissemination and outreach efforts and enrollment of people with disabilities in the ACA marketplace. You can find a COC, on the COC page of our website.
Archives of our weekly updates are available on the NDNRC website.