LAST FULL WEEK FOR OPEN ENROLLMENT
Open Enrollment concludes next weekend meaning that this is the final week for enrollment through the marketplace for OE7. AAHD has joined Community Catalyst and other partners in conducting outreach for OE7 to educate individuals about enrolling for health insurance for 2020. Community Catalyst has an Outreach Hub which includes resources to use by those who are doing open enrollment outreach. The Outreach Hub includes graphics like the one below which count down to the end of OE7. To learn more about what's included in the Outreach Hub, check out our news item. To learn more about the project we are doing with Community Catalyst, check out our earlier news item.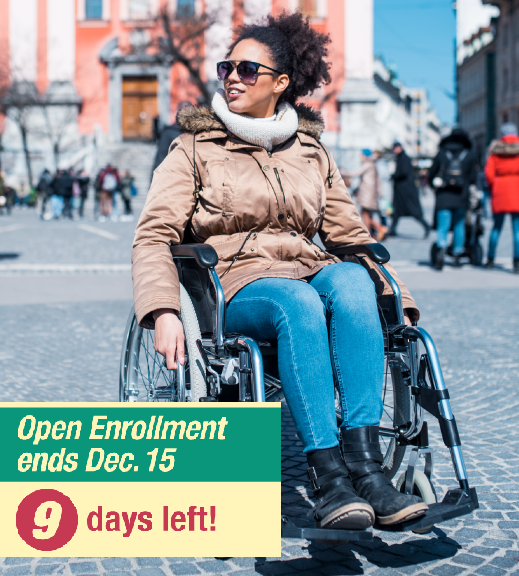 If you missed it last month, we conducted a Disability Week of Action for Open Enrollment Year 7 (OE7). Throughout the week, we posted in our blog about different topics which highlighted health insurance enrollment for people with disabilities, including what ACA coverage means for people with disabilities and some key statistics on disability and healthcare coverage. We also hosted a Twitter chat entitled "Coverage Is Inclusive" and those tweets can be found with the #OE7DisabilityChat.
If you're looking for resources to help you serve people with disabilities, check out our news item from the start of open enrollment. The news item includes links to a promotional brochure to use for people with disabilities, our disability guide and all our fact sheets.
Earlier this week, CMS released its fifth Weekly Enrollment Snapshot. This snapshot covers open enrollment through the entire month of November, and during that time nearly 2.9 million people have selected their plans so far for the 2020 year.
It should be noted that these enrollment numbers are down about 10% from last year. To read more about the weekly snapshot and what states are on pace to meet or exceed last year's enrollment and what states are lagging behind, check out the blog post from Health Affairs.
Today is National Youth Enrollment Day and Young Invincibles is leading efforts to highlight enrollment for young people. If you want to be more involved with these efforts, you can check out their online drive for more resources.
The FAQ of the week from the Georgetown University Center on Health Insurance Reforms (CHIR) blog this week is entitled "What Are the Risks of Buying Off-Marketplace?" Their prior FAQ of the week which we missed with last week's Thanksgiving holiday was "What Does My Plan Cover?"
For Thanksgiving, the CHIR blog also posted on being thankful for the protections provided by the ACA.
A decision by the Fifth Circuit in the case of Texas v. US could happen at any time. The Kaiser Family Foundation has a new fact sheet which addresses the potential impact the decision in this case could have. To read more about the Texas v. US case, check out our news item from the summer when the case was argued.
A new issue brief from the Kaiser Family Foundation looks at the participation rates for insurers from 2014 through the 2020 marketplace. To read more about this brief or for a link to it, check out our news item.
The NIDILRR-funded Collaborative on Health Reform and Independent Living (CHRIL) is looking for adults with disabilities to complete an online survey about health insurance and health care services. For more information on the survey and to learn about the drawing they are having for gift cards, check out our news item.
Are you looking for local partners to help with outreach to the disability community? The NDNRC has Community Outreach Collaboratives (COCs) which work to increase collaborations in the community, dissemination and outreach efforts and enrollment of people with disabilities in the ACA marketplace. You can find a COC, on the COC page of our website.
Archives of our weekly updates are available on the NDNRC website.