Open Enrollment concludes on Sunday meaning that there are only a few days left for Open Enrollment Year 7 (OE7) and a new analysis from the Kaiser Family Foundation shows that 4.7 million people who do not have insurance could get a bronze plan at no cost. To learn more, check out our news item.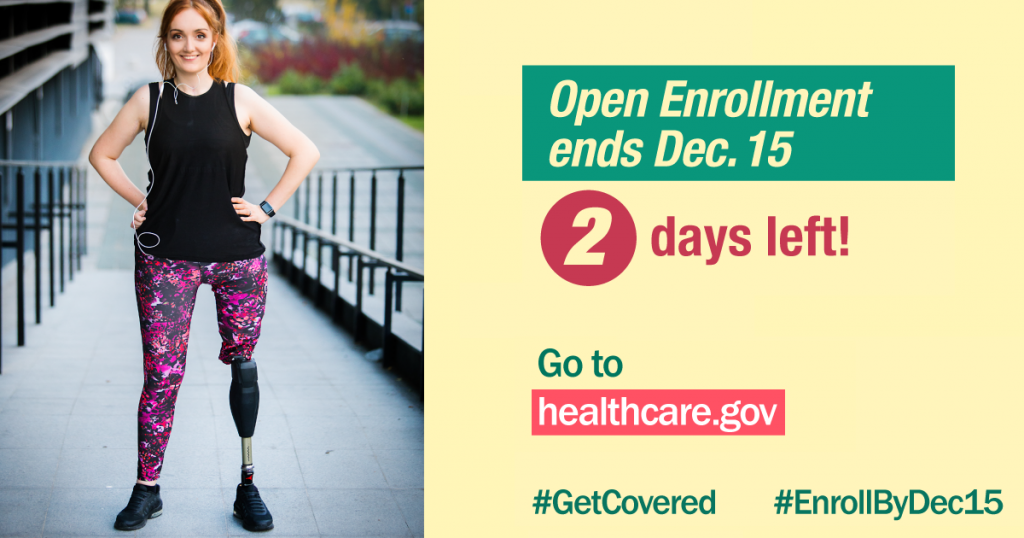 AAHD has joined Community Catalyst and other partners in conducting outreach for OE7 to educate individuals about enrolling for health insurance for 2020. Community Catalyst has an Outreach Hub which includes resources to use by those who are doing open enrollment outreach. The Outreach Hub includes graphics like the one above which count down to the end of OE7. To learn more about what's included in the Outreach Hub, check out our news item. To learn more about the project we are doing with Community Catalyst, check out our earlier news item.
If you missed it last month, we conducted a Disability Week of Action for OE7. Throughout the week, we posted in our blog about different topics which highlighted health insurance enrollment for people with disabilities, including what ACA coverage means for people with disabilities and some key statistics on disability and healthcare coverage. If you're looking for other resources to help you serve people with disabilities, check out our news item from the start of open enrollment. The news item includes links to a promotional brochure to use for people with disabilities, our disability guide and all our fact sheets.
Earlier this week, CMS released its sixth Weekly Enrollment Snapshot. This snapshot covers open enrollment through December 7th. In the last week, over 1 million people have selected their plans for 2020, increasing the total number enrolled to nearly 3.9 million people. CMS has also released a blog post and other resources to help with the final push for open enrollment. These are as follows:
Are you looking for local partners to help with outreach to the disability community? The NDNRC has Community Outreach Collaboratives (COCs) which work to increase collaborations in the community, dissemination and outreach efforts and enrollment of people with disabilities in the ACA marketplace. You can find a COC, on the COC page of our website.
Archives of our weekly updates are available on the NDNRC website.