NEW OUTREACH RESOURCES AVAILABLE!
While Open Enrollment Year 7 (OE7) has concluded, AAHD is still working with Community Catalyst and other partners in conducting outreach to educate individuals about health insurance literacy, special enrollment periods (SEPs) and other issues related to healthcare enrollment. Our new blog post this week highlights several new resources which were released and includes graphics like the one below which highlights properly using your health insurance and avoiding the ER. Links to the graphics can be found in our blog post. Community Catalyst has an Outreach Hub which has a wide variety of graphics addressing many different areas. To learn more about the project we are doing with Community Catalyst, check out our earlier news item.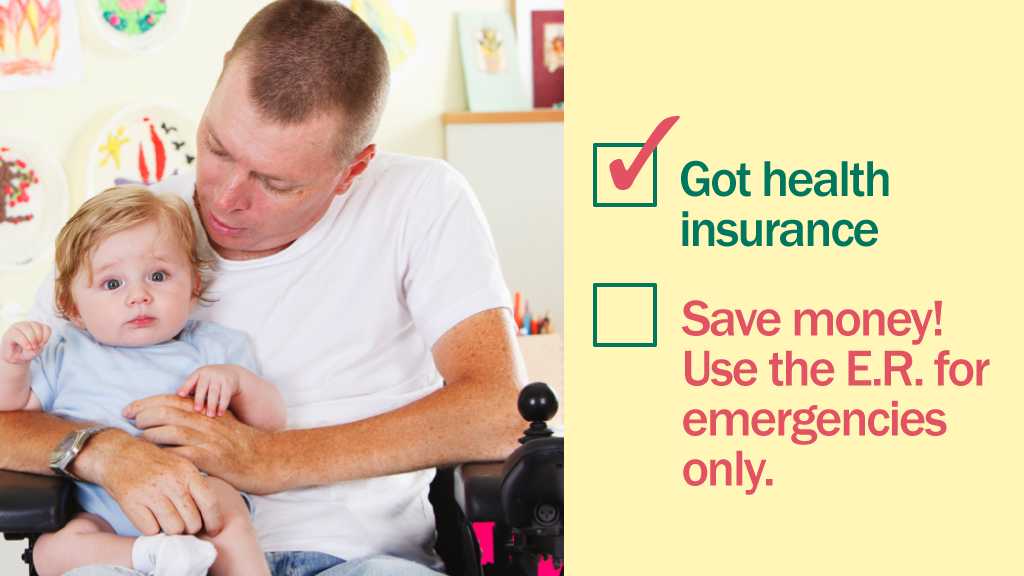 ADvancing States is pleased to announce the release of the fifth module of the HCBS Business Acumen Center Toolkit, "Disability Network Business Strategies: A Roadmap to Financial and Programmatic Sustainability for Community-Based Organizations". This resource is a 'how-to' guide designed to help Community-Based Organizations (CBOs) evaluate, plan, develop, implement and monitor strategies to help build and sustain their organizations in various business climates. You can access the full HCBS Business Acumen Center Toolkit or learn more about the center on the HCBS Business Acumen Center website. The fifth module addresses how CBOs can monitor and evaluate their strategic plans. To read the full announcement about the new module and other modules available in the toolkit, check out our news item.
If you're interested in learning more about CBOs and what they could do to address social determinants of health, check out the blog post in Health Affairs this week which was written by ACL Administrator Lance Robertson.
Do you know what the rate of the uninsured is nationally or in your state? The Kaiser Family Foundation has released a series of state health care snapshots which looks at a variety of issues related to health care coverage, including the rate of those without insurance, income levels which determine eligibility for Medicaid and premium tax credits, self-reported health status and many other interesting health related topics. The information is state specific and compares each state to the nationwide average.
This week, the Georgetown University Center on Health Insurance Reforms (CHIR) blog addresses what some states are doing with respect to Health Care Sharing Ministries and possibly regulating them.
If you missed it, at the end of January, CMS released the proposed Notice of Benefit and Payment Parameters (NBPP) for the 2021 plan year. For links to the proposed rules and other related documents from CMS, check out our news item. Comments to the proposed NBPP are due this Monday, March 2, 2020.
Are you looking for local partners to help with outreach to the disability community? The NDNRC has Community Outreach Collaboratives (COCs) which work to increase collaborations in the community, dissemination and outreach efforts and enrollment of people with disabilities in the ACA marketplace. You can find a COC, on the COC page of our website.
Archives of our weekly updates are available on the NDNRC website.