NO SEP FOR COVID-19 ON FEDERAL MARKETPLACE
A report came out this week that the Trump Administration would not be opening up the marketplace for a Special Enrollment Period (SEP) as a result of the outbreak of the coronavirus (COVID-19). However, many of the state-based marketplaces (SBMs) have decided to offer a SEP for COVID-19 and two states (Maryland and Massachusetts) have extended previously announced SEPs for COVID-19. You can read more about these extensions in our news item.
For the full list of SBMs who are offering SEPs, check out our other news item as we do update this list as states decide to offer a SEP or extend already existing ones.
In addition to these specific SEPs for COVID-19, consumers could be eligible for regular SEPs if they recently lost their coverage due to a loss of job or loss of income. In fact, with many people being laid off as a result of COVID-19, many may now be eligible for Medicaid who were not previously eligible.
AAHD has been working with Community Catalyst and other partners in conducting outreach to educate individuals about health insurance literacy, special enrollment periods (SEPs) and other issues related to healthcare enrollment. Links to graphics like the one below which highlight the fact that Medicaid enrollment is year-round can be found in the Community Catalyst Outreach Hub which has a wide variety of graphics on SEPs. To learn more about the project we are doing with Community Catalyst, check out our earlier news item.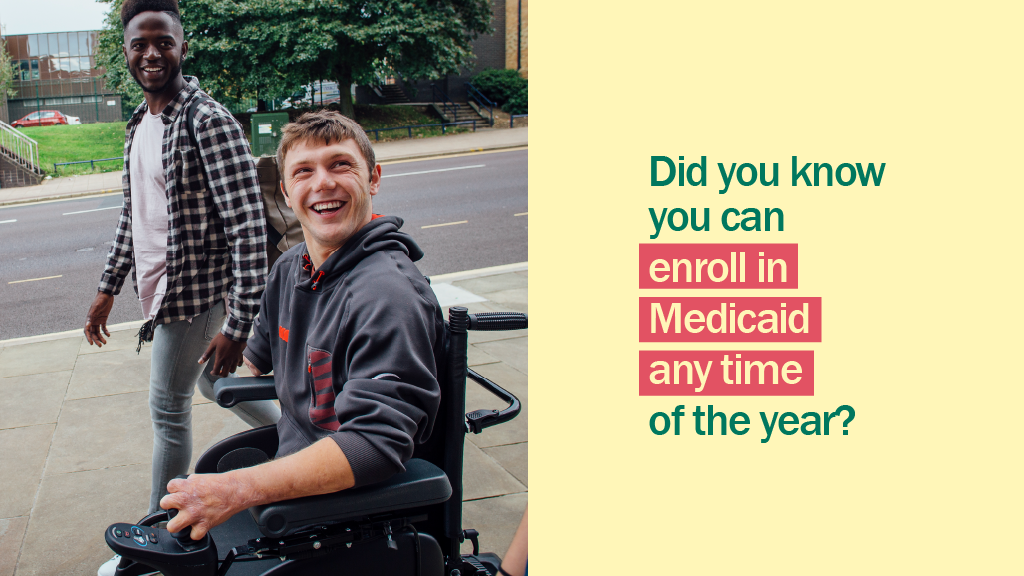 The Community Catalyst project also has social media messaging available to highlight various aspects of health insurance enrollment related to COVID-19. This messaging can be found in their COVID-19 Messaging Guide.
For a full breakdown on all the available SEPs, check out the reference chart from the Center on Budget and Policy Priorities.
If you have other questions about health insurance coverage related to COVID-19, check out the recent blog post from the Georgetown University Center on Health Insurance Reforms.
CMS has also recently issued guidance on premium payments and grace period extensions as a result of COVID-19. For more information you can check out the CCIIO fact sheet and slide deck.
For broader information on state responses to COVID-19, the Kaiser Family Foundation has a webpage dedicated to what different states are doing as it relates to a number of areas including health insurance coverage. This helpful page includes interactive maps with the number of cases and deaths in each state and what states are doing related to waiving cost-sharing for testing and/or treatment, waiver of preauthorization requirements and allowance for early prescription refills.
If you missed any of the blog posts we did last month leading up to the 10-year anniversary of the Affordable Care Act (ACA), be sure to check them out. The 10 posts highlight the importance of the ACA for people with disabilities. Links for these blog posts can be found in our news item.
Are you looking for local partners to help with outreach to the disability community? The NDNRC has Community Outreach Collaboratives (COCs) which work to increase collaborations in the community, dissemination and outreach efforts and enrollment of people with disabilities in the ACA marketplace. You can find a COC, on the COC page of our website.
Archives of our weekly updates are available on the NDNRC website.