REPORT ON COVID-19 & DISABILITY SURVEY
The American Association on Health & Disability is pleased to release the COVID-19 & Disability Survey Summary Report. The purpose of the survey was to conduct a rapid, real-time online assessment of the coronavirus pandemic's impact on access to healthcare on adults with a range of disabilities & was conducted from April 17th – May 1st. You can read more about the survey and download the report on our website.
If you missed it, we released a series of videos on COVID-19 and disability. These videos address topics such as who is at risk for complications due to COVID-19, precautions people with disabilities need to take during the COVID-19 pandemic and what people with disabilities need to know about advocacy related to COVID-19. All of these videos can be found on the AAHD Facebook page, Instagram page and in a YouTube playlist. Links to all of these videos and other resources on COVID-19 can be found on our COVID-19 resource page. On this page, you'll find general resources on Disability and COVID-19, COVID-19 & Medicaid, Advocacy Resources and Governmental Resources.
The Kaiser Family Foundation has just released a new issue brief which addresses eligibility for coverage for individuals who have lost employer-based coverage due to a layoff during the COVID-19 outbreak. To learn more about this issue brief or for a link to it, check out our news item.
If you are working with individuals who are exploring their coverage options due to losing coverage as a result of COVID-19, Special Enrollment Periods (SEPs) are available for people who have lost coverage due to a loss of their job. AAHD has been working with Community Catalyst and other partners in conducting outreach to educate individuals about SEPs and Medicaid enrollment. Links to graphics like the one below which highlight job loss SEPs can be found in the Community Catalyst Outreach Hub . To learn more about the project we are doing with Community Catalyst, check out our earlier news item.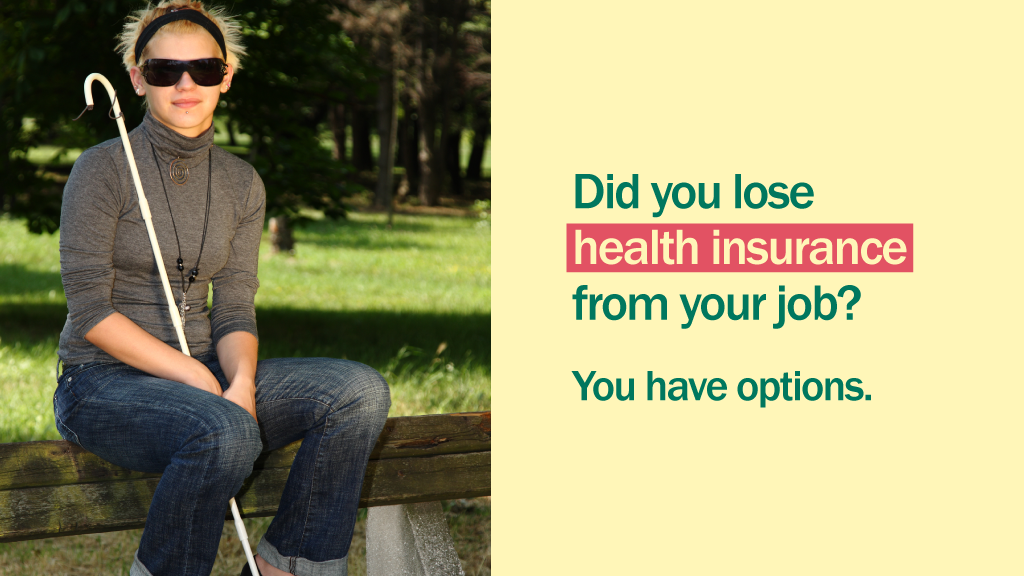 The Community Catalyst project also has social media messaging available to highlight various aspects of health insurance enrollment related to COVID-19. This messaging can be found in their COVID-19 Messaging Guide.
At the end of last week, the Center for Medicare and Medicaid Services (CMS) issued the final Notice of Benefit and Payment Parameters (NBPP) for the 2021 plan year. The NBPP is the regulatory framework which CMS uses to operate the federally facilitated marketplace (healthcare.gov). To learn more about the NBPP or for links to the final rules and other documents which CMS released, check out our news item.
To learn more about the final NBPP, there are three blog posts from Health Affairs which go into detail about the final rules. Links for those blog posts are:
If you want to learn more about what state-based marketplaces are doing to help with promoting coverage during COVID-19, check out the blog post this week from the National Academy for State Health Policy. Some state-based marketplaces have authorized a SEP for COVID-19 (read more about them in our news item).
This week the Georgetown University Center on Health Insurance Reforms (CHIR) blog addressed the topic of the inadequacy of short-term duration plans during the COVID-19 pandemic.
Are you looking for local partners to help with outreach to the disability community? The NDNRC has Community Outreach Collaboratives (COCs) which work to increase collaborations in the community, dissemination and outreach efforts and enrollment of people with disabilities in the ACA marketplace. You can find a COC, on the COC page of our website.
Archives of our weekly updates are available on the NDNRC website.