CMS SEEKING NAVIGATOR APPLICATIONS
After this week and throughout the summer, we will be publishing the NDNRC Update on a biweekly basis.
If you're interested in serving as a navigator organization and helping consumers enroll in the Affordable Care Act marketplace, CMS is accepting applications from organizations to serve as navigators in states which utilize the federally facilitated marketplace (Healthcare.gov). To read more about this opportunity, check out our news item.
If you have other questions about applying for navigator funding, you can also check out the FAQs released by CMS about the funding opportunity.
Last week, we highlighted a webinar which the Center on Budget and Policy Priorities (CBPP) hosted this past Wednesday. If you were not able to join that webinar, CBPP has archived it on their Health Reform: Beyond the Basics website. CMS is also holding a technical assistance webinar for those considering applying. That webinar will be held on Monday, June 28, 2021 at 3:00 PM ET and you can register for that webinar.
A new report from HHS indicates that over 31 million people have been enrolled in coverage through the ACA. This represents an all-time high of enrollees through the ACA marketplace. For links to the report or the CMS press release, check out our news item.
In an effort to highlight the COVID Special Enrollment Period (SEP), AAHD has a project with Community Catalyst and other partners in conducting outreach to educate individuals about health insurance enrollment through the ACA Marketplace and Medicaid. This outreach includes graphics like the one below which highlight the opportunity to enroll due to COVID. These graphics are available in the Community Catalyst Outreach Hub. You can also check out the social media toolkit Community Catalyst created for the COVID SEP.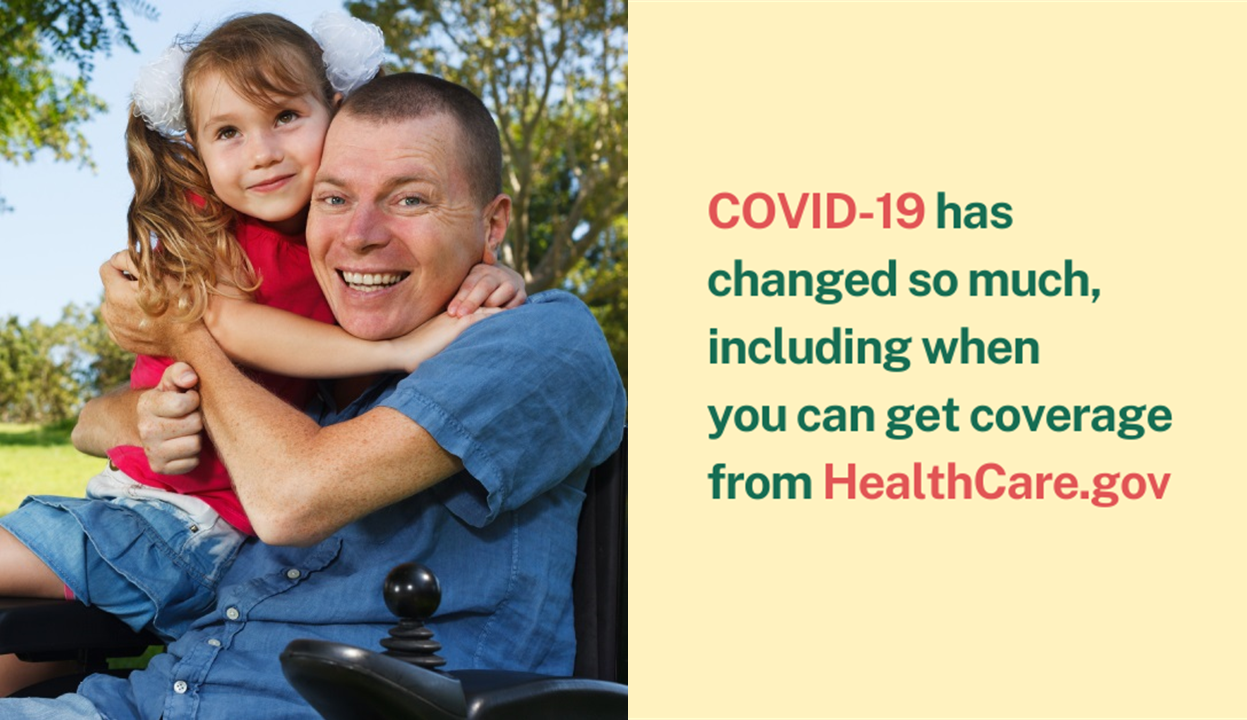 For more information about the COVID SEP, you can check out some of our other NDNRC posts from the past few months, including our blog post on states who have extended their COVID SEP.
Our partners at Community Catalyst recently posted two blog posts which highlight the benefits of Medicaid expansion under the Affordable Care Act (ACA). If you missed it, we highlighted some of these findings in our blog post last week.
Speaking of Medicaid expansion, the Georgetown University Center for Children and Families has a new analysis looking at three specific states who have not yet expanded Medicaid and what it could mean for those states (Mississippi, Missouri & Wyoming).
If you're looking for information for people with disabilities and the COVID-19 vaccine, the Administration for Community Living (ACL) has established the Disability Information and Access Line (DIAL). It can be reached at (888) 677-1199. To read more, check out the ACL page on DIAL.
Archives of our weekly updates are available on the NDNRC website.