NEXT WEEK IS DISABILITY WEEK OF ACTION!
Coinciding with the 31st anniversary of the Americans with Disabilities Act (ADA) which is Monday, 7/26, CMS has designated next week as Disability Week of Action for the COVID Special Enrollment Period (SEP). Throughout the week, AAHD will be participating in activities which highlight the opportunity which the COVID SEP provides to the disability community and others who do not have health insurance. Throughout the week we will be posting on the NDNRC website starting on Monday when we will be posting a blog highlighting the Week of Action and providing a preview of the week's events.
On Tuesday, July 27, we will be participating in a Twitter chat with Young Invincibles at 3:00 PM ET. The Twitter chat will be called "Getting Covered: The Value of Health Coverage for People with Health Care Needs." To participate, follow along with the #TodaysVoicesTues or follow the AAHD Twitter account.
On Thursday, July 29 at 2:00 PM ET, we will be hosting a Facebook live event entitled "Getting Covered: The Value of Health Coverage for People with Health Care Needs." This event will be conducted with Doctors for America and Young Invincibles and will discuss the fact that people with disabilities and pre-existing conditions have unique needs when it comes to health coverage and care. To participate, join us on the AAHD Facebook page.
In an effort to highlight the COVID Special Enrollment Period (SEP), AAHD has a project with Community Catalyst in conducting outreach to educate individuals about health insurance enrollment through the ACA Marketplace and Medicaid. This outreach includes graphics like the one below which highlight the opportunity to enroll due to COVID. These graphics are available in the Community Catalyst Outreach Hub. You can also check out the social media toolkit Community Catalyst created for the COVID SEP.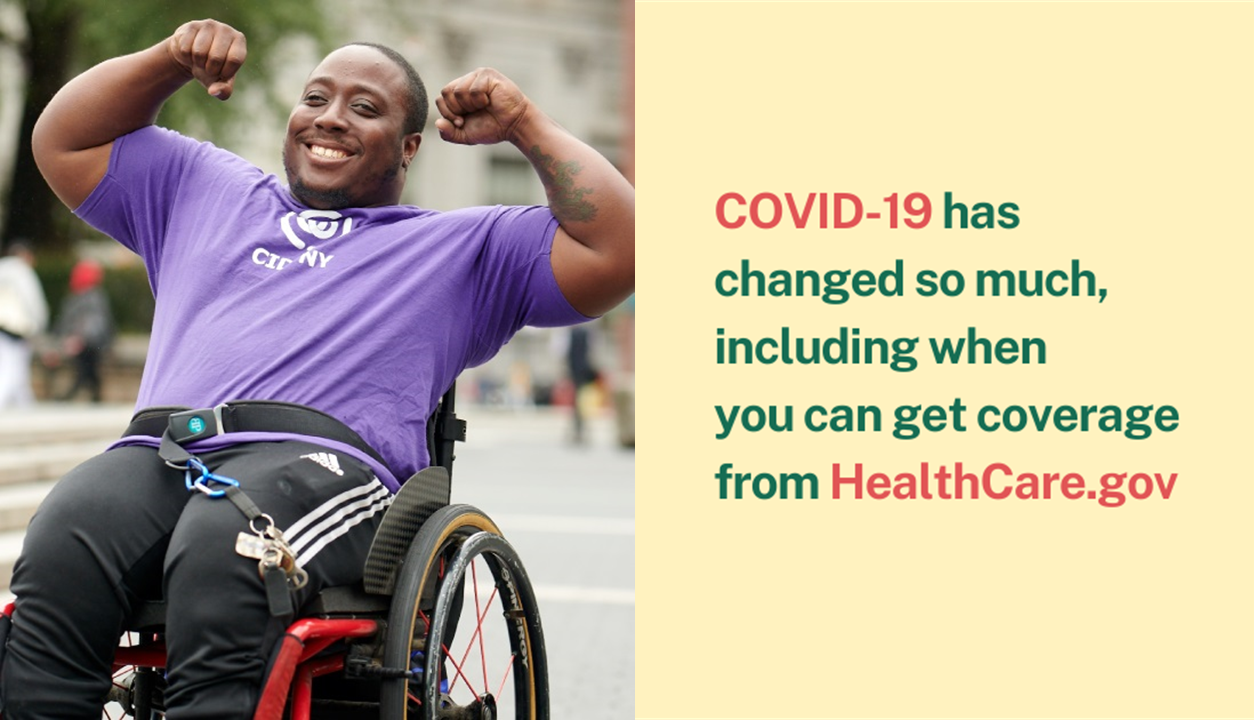 For more information about the COVID SEP and Medicaid expansion, you can check out some of our other NDNRC posts from the past few months, including last month's blog post on the benefits of the Medicaid expansion.
Last week, CMS released the latest enrollment report for the COVID Special Enrollment Period (SEP). The report shows that since the SEP began in February and through June 30, over 1.5 million people have received health insurance coverage through the ACA marketplace.
One thing which may be contributing to increased enrollment during the COVID SEP is the enhanced financial assistance available as a result of the American Rescue Plan Act. The Georgetown University Center on Health Insurance Reforms (CHIR) has a new blog post which highlights the availability of these new tax credits which make purchasing health insurance more affordable.
Previously, we wrote about the "No Surprises Act" and recently, the Biden administration released its first proposed rules on the new law. The CHIR also has a new blog post which looks at these rules.
Archives of our weekly updates are available on the NDNRC website.