OE9 ENDS WITH RECORD ENROLLMENT
Open Enrollment Year 9 (OE9) ended last week and from the enrollment numbers, it was one of the most successful open enrollments to date. While we are still waiting for the final numbers, we do know that over 14.2 million people were enrolled in coverage during OE9 with 10 million being enrolled in the federally facilitated marketplace (healthcare.gov) through January 12 and 4.2 million people being enrolled through a state-based marketplace as of January 8. When the final enrollment numbers are released, we will report them to you. If you want to read more about this, you can read the CMS press release which was released in the final days of OE9.
Even though OE9 has ended, there could be still ways to enroll. If someone experiences a major life event, they could qualify for a Special Enrollment Period (SEP). To learn more about what qualifies for a SEP, check out our latest blog post.
In addition to SEPs, there are other ways to potentially get coverage. For instance, Medicaid enrollment goes all year long and there are never deadlines to apply. AAHD continues its partnership with Community Catalyst in highlighting opportunities for people to get access to health coverage. As part of this project, we have the resources you need to help with outreach on Medicaid enrollment and SEPs. This outreach includes graphics like the one below which highlight the fact that Medicaid enrollment goes year-round. These graphics are available in the Community Catalyst Outreach Hub.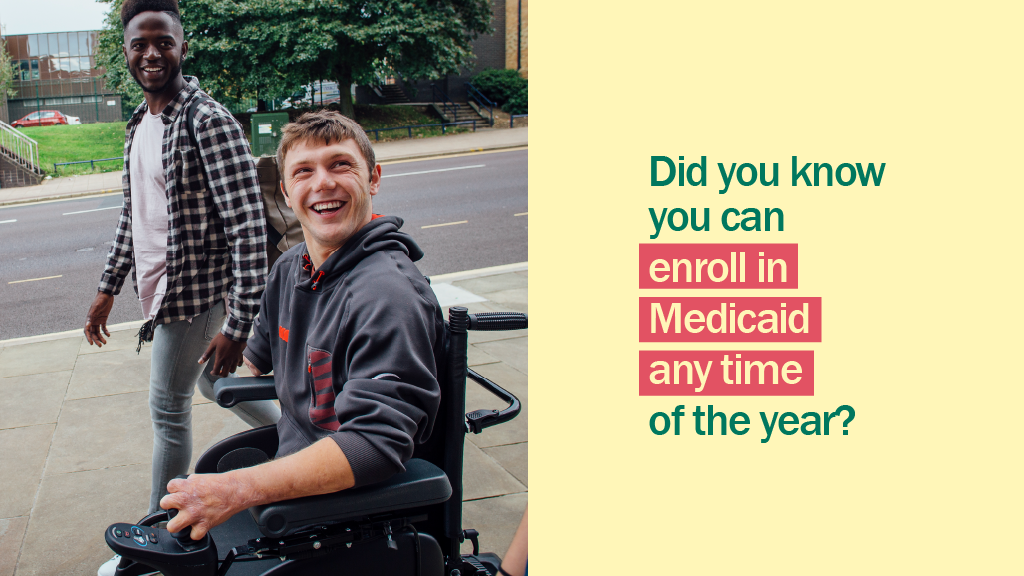 While last Saturday was the deadline to apply in states that are on the federally facilitated marketplace (healthcare.gov), some states which operate with their own state-based marketplace (SBM) do have different deadlines for OE9. In fact, Maryland recently announced that it was extending its OE9 to address the COVID-19 surge and open enrollment in Maryland will continue through February 28. For a complete list of which SBMs have extended OE9 deadlines, check out our news item.
Late last week, HHS Secretary Becerra announced an extension to the public health emergency due to COVID-19. This announcement extends the emergency through April 16, 2022 and has real implications for those people who are enrolled in Medicaid. Under the public health emergency, Medicaid enrollees are entitled to continuous coverage and do not need to go through ongoing eligibility determinations. As a result, states are not allowed to disenroll Medicaid beneficiaries unless they move out of state. To read more about the Secretary's announcement, check out the news item from the Georgetown University Health Policy Institute Center for Children and Families.
The Georgetown University Center on Health Insurance Reforms (CHIR) has another entry in their series Navigator Guide FAQ of the Week entitled "Answers to Post-Enrollment Questions".
Earlier this month, we reported on the new guidance from CMS on the enforcement of the No Surprises Act. CMS now has a webpage for consumers on what they need to know about the new protections. Additionally, the CHIR recently posted a blog on these new regulations and what consumers need to know about them.
In case you missed it, earlier this month we reported on the newly the proposed Notice of Benefit and Payment Parameters (NBPP) for the 2023 plan year which were issued by CMS. The NBPP is the regulatory framework which CMS uses to operate the federally facilitated marketplace (healthcare.gov). For links to the proposed rules, CMS press release and fact sheet, check out our news item. Comments to the proposed rules are due January 27.
Archives of our weekly updates are available on the NDNRC website.