MEDICAID WORK REQUIREMENTS = MEDICAID CUTS
AAHD has joined a coalition of over 200 organizations in urging Congress not to cut Medicaid as part of the ongoing debt ceiling negotiations. The coalition letter led by Families USA includes a request to not impose work requirements on Medicaid beneficiaries.
A new blog post from the Georgetown Center for Children and Families examines the Medicaid work requirements which were part of the debt ceiling bill passed by the House earlier this week.
The National Health Law Program (NHeLP) has started a new blog series – Protecting Medicaid Funding. This new series includes several posts which demonstrate the importance of Medicaid for various populations including one post focused on older adults and people with disabilities.
NHeLP has also updated a paper which looks at those who benefit from Medicaid entitled "The Faces of Medicaid Expansion".
A new analysis from the Kaiser Family Foundation indicates that anywhere from 8 to 24 million people could lose Medicaid coverage over the next year during redeterminations.
Unwinding the Medicaid continuous coverage requirement has begun in many states, and in some states, people may have started losing their Medicaid eligibility. Over the last couple months we have been updating our "Medicaid Unwinding Resources" blog post which has links to various resources including our Medicaid unwinding flyer and recent additions like the Kaiser report mentioned above.
As part of our partnership with Community Catalyst, we have a project which highlights opportunities for people with disabilities to get access to health coverage through Medicaid or the ACA marketplace. As part of this project, they have graphics like the one below which highlight the changing Medicaid rules regarding redeterminations. These are available in the Community Catalyst Outreach Hub.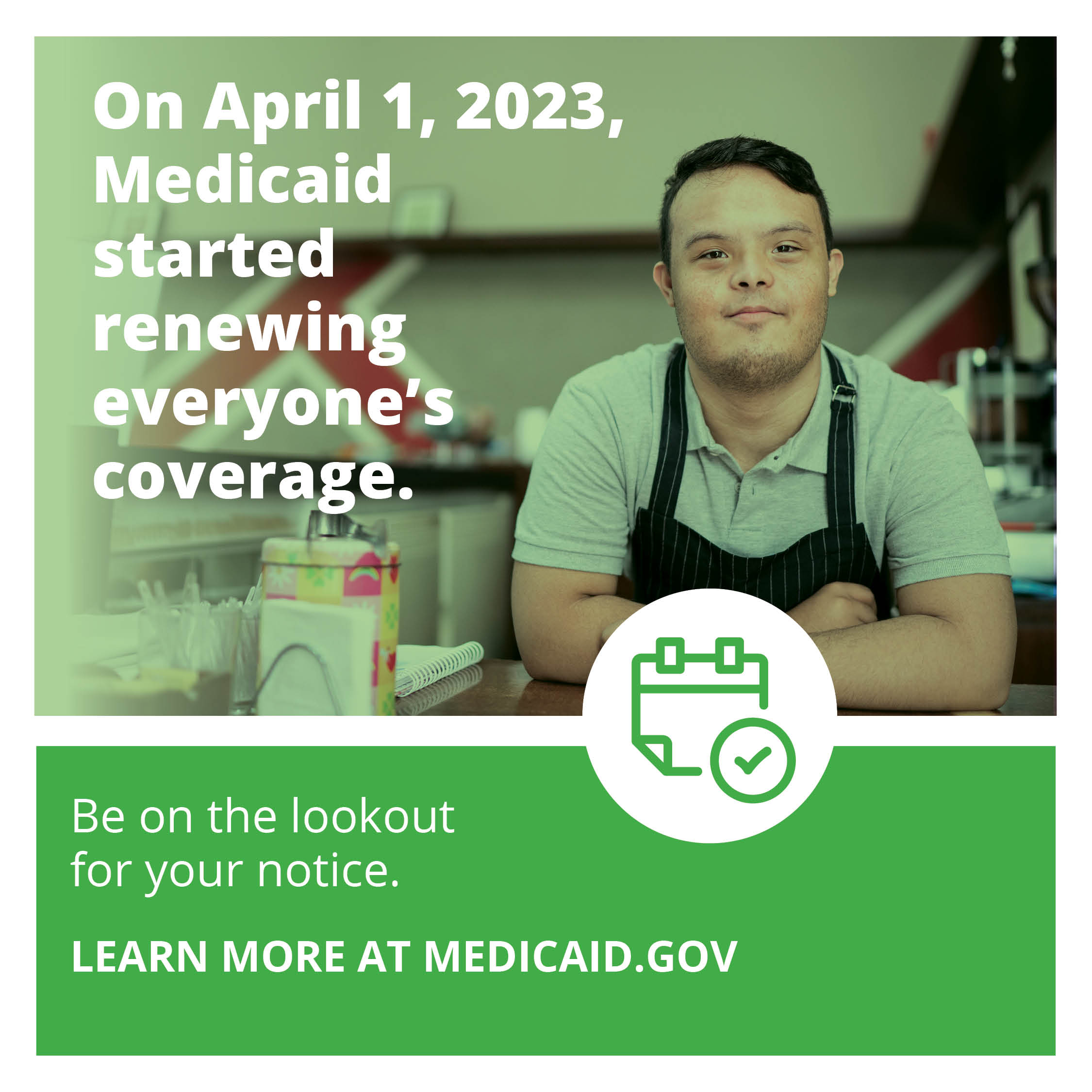 In case you missed it, we released of our newest fact sheet on the unwinding of the Medicaid continuous coverage requirement and to highlight this new fact sheet, we have also released a new Olli the NaviGator comic to show people what their options are if they lose their Medicaid coverage. You can see all of Olli's adventures on our social media channels plus we have compiled all of Olli's adventures on this NDNRC webpage.
Many states have started the process of redeterminations and some are already terminating Medicaid enrollment, but timelines look different from state to state. If you're wondering what the timeline looks like for your state, CMS released a list of key dates by state regarding their redeterminations (see our news item).
The Center on Budget and Policy Priorities (CBPP) has released a new FAQ on those individuals who will be transitioning from Medicaid to employer-sponsored coverage.
CBPP is conducting a webinar next week on Special Enrollment Periods. You can register now for this webinar which will be conducted on May 4, 2023 at 2:00 PM ET.
Last week, we highlighted CMS's release of the final rule for the 2024 Notice of Benefit and Payment Parameters (NBPP). (To learn more or for links to the final rule and the CMS press release and fact sheet, check out our news item.) We also highlighted two explanatory blog posts from Health Affairs on the NBPP. Health Affairs has a new explanatory blog post entitled "Exchange Operational Standards and APTC Policies."
If you want to learn more about the NBPP, the Georgetown Center on Health Insurance Reforms also has a new blog post which examines the NBPP and the effect on insurance markets and consumer assistance.
Archives of our weekly updates are available on the NDNRC website.