MEDICAID WORK REQUIREMENTS
Earlier this month, the Centers for Medicare and Medicaid Services (CMS) issued new guidance to states who are interested in submitting waiver applications to add work requirements for Medicaid eligibility. A new issue brief from the Kaiser Family Foundation details the states which have already submitted such applications, including Kentucky which CMS has already approved. To learn more about which states have applied for a waiver and what issues exist with these work requirements, check out our news item and download a copy of the issue brief.
If you're interested in learning more about Medicaid work requirements, Health Management Associates wrote about the Kentucky waiver in their Weekly Roundup. You can also check out fact sheets on the Kentucky waiver from the National Health Law Program (NHeLP), Families USA and the Center on Budget and Policy Priorities (CBPP).
Do consumers come to you with questions about appeals? CBPP will be hosting a webinar as part of their Health Reform: Beyond the Basics series on Thursday, February 1, 2018 at 12:00-1:00 PM ET. This webinar will address the "Marketplace Appeals Process." You can register here for that webinar. AAHD has partnered with CBPP on a project called the Consumer Assistance Coordination Hub (CACH). The CACH supports individuals and groups that provide enrollment assistance. To read more about this project, check out our blog post.
For those of you who do enrollment assistance work, be sure to check out the new blog post on the Georgetown University Center on Health Insurance Reforms which takes a look at some of the successes that navigators experience during Open Enrollment Year 5 and looks ahead to some of the upcoming challenges.
Did you know that open enrollment was still going on in four of the state-based marketplaces? For a complete rundown of the dates for open enrollment in the state-based marketplaces, check out our blog post. If you're interested in materials to help with continued outreach in some of the state-based marketplaces, we have partnered with Community Catalyst on a project aimed at spreading awareness about the open enrollment period (with tools like the graphic below). If you want to read more about this project, check out our blog post.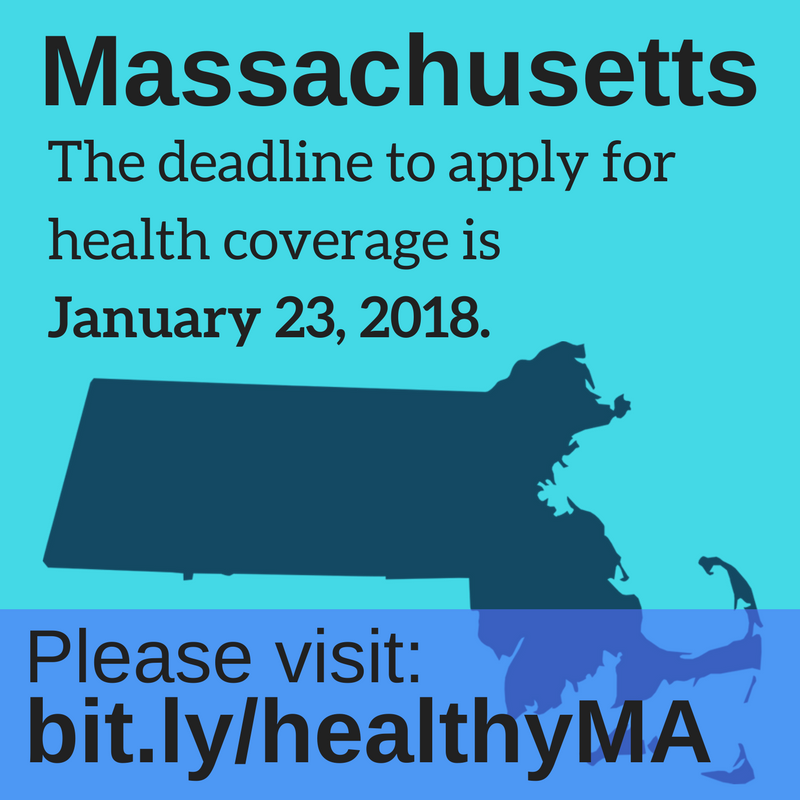 If you missed it last week, we highlighted our blog post which highlights some of the findings in a new article from the Collaborative on Health Reform and Independent Living (CHRIL). The article looks at how the insurance coverage rates, access to care and health care utilization have been affected by the Affordable Care Act (ACA) in the populations of those with and without disabilities among working age adults (18-64 years old).
The University of Washington, Healthy Aging & Physical Disability, Rehabilitation Research Training Center (RRTC) has a plain language summary entitled "Resilience Can Boost Your Quality of Life Regardless of Your Symptoms."
Are you looking for local partners to help with outreach to the disability community? The NDNRC has Community Outreach Collaboratives (COCs) which work to increase collaborations in the community, dissemination and outreach efforts and enrollment of people with disabilities in the ACA marketplace. You can find a COC, on the COC page of our website.
Archives of our weekly updates are available on the NDNRC website.