HCBS BUSINESS ACUMEN CENTER WEBSITE LAUNCHED
NASUAD is pleased to announce the HCBS Business Acumen Resource Center's new website, HCBSBusinessAcumen.org! The HCBS Business Acumen Center is a resource center for community-based organizations (CBOs) that serve individuals with disabilities. The resource center provides tools, resources and examples of promising practices that promote the sustainability of disability-focused CBOs. The HCBS Business Acumen Center is designed to help organizations expand their payer portfolio with managed care organizations (MCOs), accountable care organizations (ACOs), healthcare systems, cities, counties, private pay clients and others. Through the HCBS Business Acumen Center, CBOs can receive training, technical assistance, resources and examples of promising practices from CBOs across the country and from a learning collaborative comprised of state departments, disability-focused CBOs and MCOs currently working together to address state-specific opportunities in changing long-term services and supports delivery system. The new HCBS Business Acumen Center website serves as a hub of information about who we are, our initiatives, resources, and how you can get involved. Visit HCBSBusinessAcumen.org to explore resources, information, and more!
Last week, CMS approved a waiver for the state of Arkansas which adds both premium and work requirements for enrollees. To learn more about the Arkansas waiver, check out our news item which also includes links to a blog post by Community Catalyst and resources from the National Health Law Program (NHeLP), including a fact sheet on the effects the waiver will have on people with disabilities. NHeLP has already filed a lawsuit related to a similar waiver in Kentucky. To learn more about this litigation, check out our news item from January.
Last month we posted a blog article where we captured all the news and resources on the waivers where states are adding work requirements to their Medicaid programs. We continue to add new resources to this list. This week we added the items on the Arkansas waiver as well as a graphic from the Kaiser Family Foundation demonstrating which states are pursuing similar Medicaid waivers.
The Kaiser Family Foundation has released a new issue brief which examines the effect that adding premiums to the Medicaid program in Indiana has had on beneficiaries. To learn more about the brief or to download a copy, check out our news item.
The Community Catalyst outreach project which we are working on has prepared graphics to highlight Special Enrollment Periods (SEPs) for which consumers may qualify. These graphics are specific to many of the reasons people could be eligible like the graphic below highlighting SEPs for the birth or adoption of a child. To learn more about what's available through this project, check out our blog post.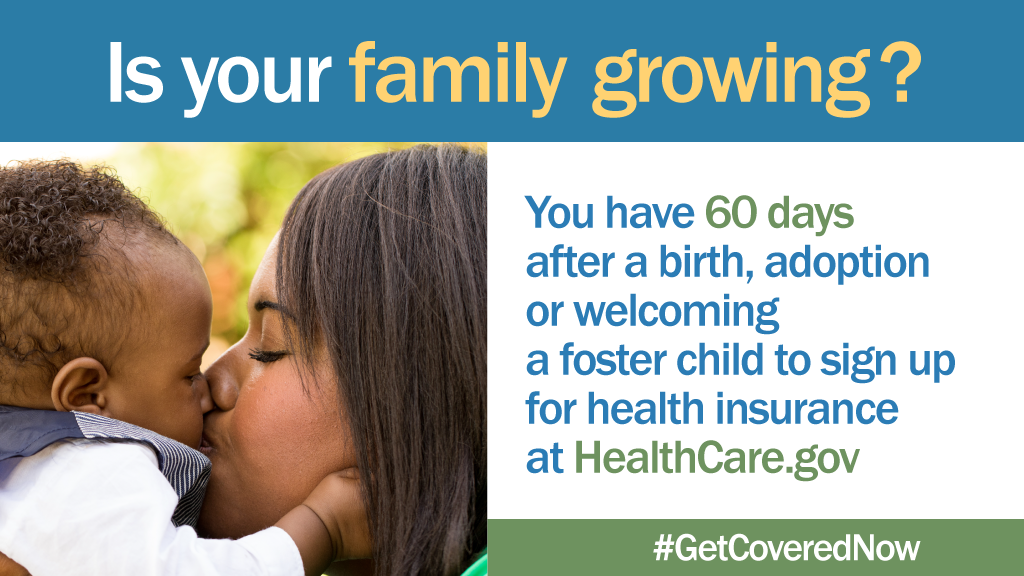 Last week we highlighted a webinar that the Center on Budget and Policy Priorities (CBPP) was hosting on SEPs. This was being conducted as part of their Health Reform: Beyond the Basics series. The slides for this webinar have been archived and if you're looking for prior webinars conducted by CBPP, be sure to check out their webinar archive. AAHD has partnered with CBPP on a project called the Consumer Assistance Coordination Hub (CACH). The CACH supports individuals and groups that provide enrollment assistance. To read more about this project, check out our blog post.
The Collaborative on Health Reform and Independent Living (CHRIL) is conducting an online survey of people with disabilities about getting and using health insurance and health care services. To learn more about the survey and how to enter a drawing to win one of five $100 gift cards, check out our news item. Currently, they are especially looking for people to complete the survey who are male, living in southern states or racial/ethnic minorities.
The University of Washington, Healthy Aging & Physical Disability, Rehabilitation Research Training Center (RRTC) has released a new fact sheet entitled "Living Well with Age-Related Vision Loss."
Are you looking for local partners to help with outreach to the disability community? The NDNRC has Community Outreach Collaboratives (COCs) which work to increase collaborations in the community, dissemination and outreach efforts and enrollment of people with disabilities in the ACA marketplace. You can find a COC, on the COC page of our website.
Archives of our weekly updates are available on the NDNRC website.