DISABILITY WEEK OF ACTION IS COMING
AAHD is working with Community Catalyst and other partners in doing outreach for Open Enrollment Year 6 (OE6) and educating individuals about enrolling for health insurance for 2019. Next week is a Disability Week of Action and we will be highlighting the importance of getting people with disabilities enrolled in proper coverage and the importance that Medicaid plays in covering people with disabilities. It is also Thanksgiving week, so we will be expressing why we are #Thankful4Coverage and #Thankful4Medicaid throughout the week. Be sure to follow AAHD and NDNRC on Twitter for everything going on during the Disability Week of Action.
As part of our Disability Week of Action, we are partnering with one of our Community Catalyst partners, Young Invincibles in conducting a Twitter chat on Monday, November 19 from 3:00-4:00 ET. The Twitter chat will focus on getting coverage for people with disabilities through the marketplace and/or Medicaid. You can follow the Twitter chat by following the AAHD and Young Invincibles' twitter accounts. You can also follow the following hashtags: #MillenialMon, #Thankful4Coverage and #Thankful4Medicaid.
To read more about the Community Catalyst project, or for a link to access the online drive of images like the one below which can be used to highlight OE6, check out our blog post. They've also recently added some videos which highlight the need for health care coverage.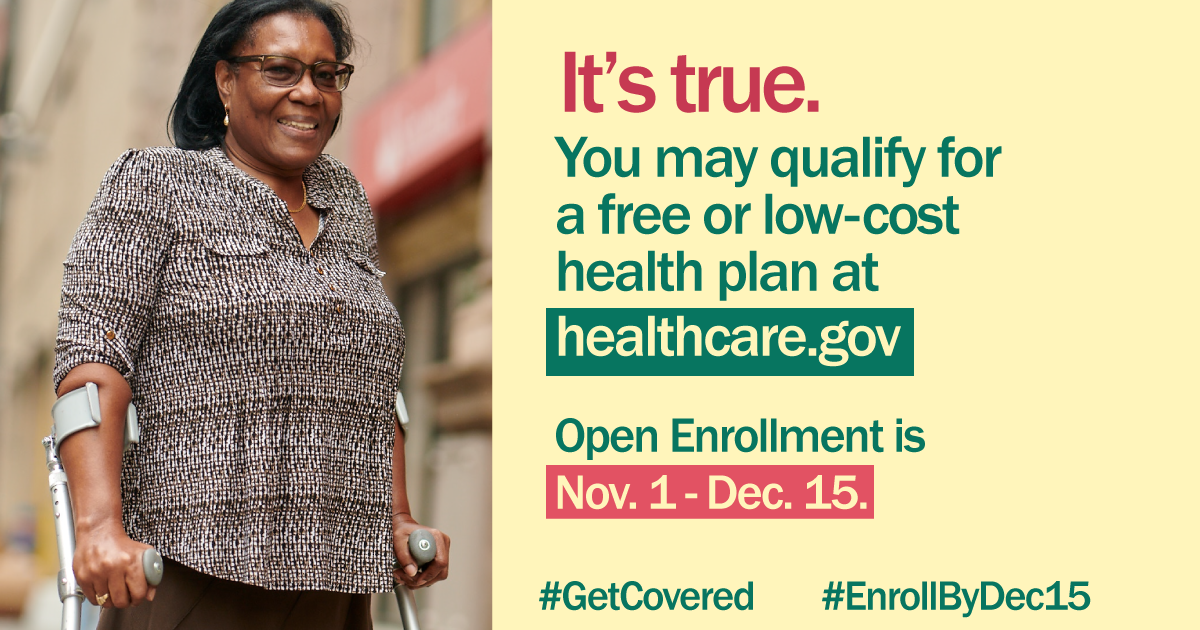 A new report from the Center on Budget and Policy Priorities (CBPP) shows that Medicaid work requirements do not adequately protect people with disabilities. To learn more about what's included in the report or to download a copy, check out our news item. If you want to learn more about what states are doing regarding adding work requirements to their Medicaid programs, check out the blog post we published in February.
We have previously highlighted the online navigator guide from the Georgetown University Center on Health Insurance Reforms (CHIR) and now the CHIR is hosting a Twitter chat today from 12:00-1:00 ET where they will be answering questions you may have about assisting consumers with enrollment. You can follow the CHIR twitter account and the hashtag #PathToCoverage.
A new issue brief from the Kaiser Family Foundation looks at the participation rates for health insurers in the ACA marketplace for 2019. To learn more about what's included in the brief or to download a copy, check out our news item.
If you missed it last week, be sure to check out our news item on what happened in the midterm elections regarding Medicaid expansion and how Medicaid expansion is now poised to come to three new states.
Join the NASUAD Disability Business Acumen Center on Wednesday, November 28, 2018 from 12:30-1:30 PM ET as they present a webinar entitled "Improve Quality | Improve Relationships: How one organization developed clinical systems to improve outcomes for individuals and relationships with payers." This webinar will be presented by Debra Scheidt, Executive Director of United Disabilities Services (UDS) as she describes how they incorporated the use of clinical tools and language to improve outcomes for their clients and relationships with payers and providers of health services. You can also learn more about what UDS is doing in this YouTube video.
If you want to learn more about our new project with the NIH's All of Us Research Project, check out the Frequently Asked Questions document about the program.
Are you looking for local partners to help with outreach to the disability community? The NDNRC has Community Outreach Collaboratives (COCs) which work to increase collaborations in the community, dissemination and outreach efforts and enrollment of people with disabilities in the ACA marketplace. You can find a COC, on the COC page of our website.
Archives of our weekly updates are available on the NDNRC website.