NEW REPORTS ON COVID-19 & DISABILITY SURVEY
Throughout the summer, we will be publishing the NDNRC Update on a biweekly basis.
If you missed it last month, we began releasing reports and summaries from our COVID-19 & Disability Survey which we conducted from April 17th – May 1st. The purpose of the survey was to conduct a rapid, real-time online assessment of the COVID-19 pandemic's impact on access to healthcare on adults with a range of disabilities. Recently, we released another report and two additional summaries addressing the responses of people with vision disabilities. The new report and summaries along with all reports on our COVID-19 & Disability Survey are available on the AAHD website as well as with the following links:
Survey Reports
Summaries of Key Findings
Additional reports and summaries will be released on other disability populations. You can read more about the survey and download these reports in addition to future reports as they become available on our website.
Links to these reports as well as our video series and other resources on COVID-19 can be found on our COVID-19 resource page. One of the newest resources we've added to our COVID-19 resource page is a disability needs assessment report from Lakeshore Foundation and the National Center on Health, Physical Activity and Disability (NCHPAD).
This week the Georgetown University Center on Health Insurance Reforms (CHIR) blog discussed ways which "Navigators Can Help Close Insurance Gaps Exacerbated by COVID-19."
A new report from the National Academy on State Health Policy (NASHP) indicates that Medicaid enrollment has increased since the start of the COVID-19 pandemic. To learn more or for a link to the NASHP blog, check out our news item.
If you are working with individuals who are exploring their coverage options due to losing coverage as a result of COVID-19, this is a good time to remind people that Medicaid enrollment is year-round. AAHD has been working with Community Catalyst and other partners in conducting outreach to educate individuals about SEPs and Medicaid enrollment. Links to graphics like the one below which highlight the fact that Medicaid enrollment is year-round can be found in the Community Catalyst Outreach Hub . To learn more about the project we are doing with Community Catalyst, check out our earlier news item.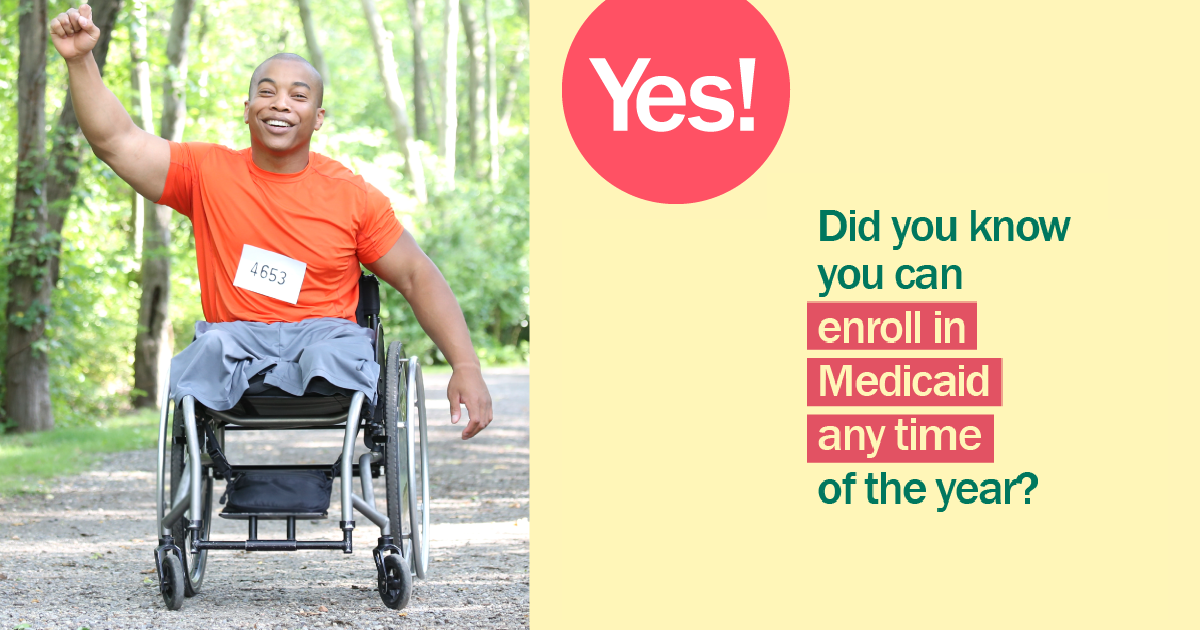 Are you looking for local partners to help with outreach to the disability community? The NDNRC has Community Outreach Collaboratives (COCs) which work to increase collaborations in the community, dissemination and outreach efforts and enrollment of people with disabilities in the ACA marketplace. You can find a COC, on the COC page of our website.
Archives of our weekly updates are available on the NDNRC website.