CMS ISSUES FINAL ENROLLMENT SNAPSHOT
With the completion of Open Enrollment Year 8 (OE8) for the federally facilitated marketplace, CMS has issued its final enrollment snapshot for the 2021 plan year. This snapshot indicates that over 8.2 million people receive coverage through the federally facilitated marketplaces. To learn more about what this number means or for links to the CMS press release and fact sheet, check out our news item.
You can also learn more about what the final enrollment numbers mean in the Health Affairs blog post.
While OE8 ended last month for most, there is still an opportunity for some people to enroll in health insurance for 2021. This is because open enrollment ended on December 15 for markets on the federally facilitated exchange (healthcare.gov), but some states run their own state-based marketplace (SBM) and have a deadline which still allows people to enroll in coverage. Ten states with a SBM are still open and allowing people time to complete their enrollment, and OE8 in four SBM states ends today (Colorado, Nevada, Pennsylvania & Washington). For a complete list of all the state deadlines of when their open enrollment ends, check out our blog post.
If you are in one of the SBM states and are looking for resources to help you highlight the ongoing open enrollment, AAHD has a project where we are working with Community Catalyst and other partners in conducting outreach to educate individuals about health insurance enrollment through the ACA Marketplace. This outreach includes graphics like the one below which highlight the SBM open enrollment deadline for some states. These graphics are available in the Community Catalyst Outreach Hub.
FOR CA, DC, NJ & NY ONLY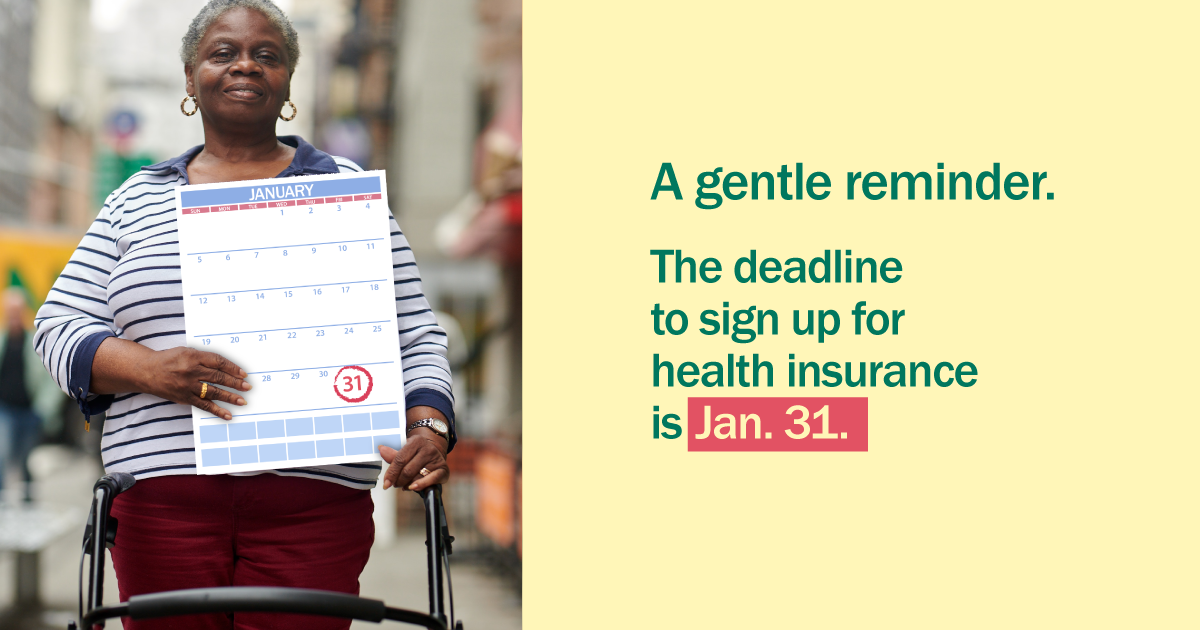 Last week, we announced a new project in partnership with Community Catalyst in which we will be conducting Medicaid outreach to raise awareness about the potential enrollment in the program for individuals without health insurance. If you want to learn more about the Medicaid Outreach Partnership, check out our blog post.
Recently, CMS approved Medicaid waiver by the state of Tennessee which allows the state to make dramatic changes to the funding structure for their Medicaid program. To read more about this, check out the blog post from our partners at Community Catalyst.
One of the items included by Congress in the year end omnibus funding bill was the "No Surprises Act" which is intended to protect consumers from receiving surprise medical bills from providers who are out of their network. Prior to this legislation, consumers were at the mercy of the providers and insurance companies in addressing this. The new law sets up a system where the insurance companies and healthcare providers will go through an arbitration to determine disputes between the insurance companies and providers, thereby providing consumers protection from exposure to these unexpected medical expenses. To read more about what is in the No Surprises Act, check out these resources:
With the special election concluded for the Georgia Senate seats, we now know what the full makeup will be for the new Congress with which the Biden administration will be working. For a discussion on what the Georgia Senate results possibly mean for the ACA, check out the blog post by Health Affairs.
Archives of our weekly updates are available on the NDNRC website.