UNDERSTANDING THE COVID SEP
This past Monday, February 15 was the start of the COVID Special Enrollment Period (SEP). This SEP will last for three months ending on May 15, 2021. To learn more about how the COVID SEP differs from prior SEPs, check out today's NDNRC blog post. If you want to learn more about the COVID SEP, check out the news item about last month's announcement or this past Monday's news item where we outline what someone needs if they want to take advantage of the COVID SEP.
The COVID SEP only affects people who live in states that are on the federally facilitated marketplace (healthcare.gov). However, many State Based Marketplaces (SBMs) have also announced that they will be opening COVID SEPs or extended Open Enrollments, including five new states (CT, ID, MN, PA & VT). For a full list of SBMs who have announced COVID SEPs and the actual dates for those SEPs, check out our blog post.
In preparation for the COVID SEP, AAHD has a project with Community Catalyst and other partners in conducting outreach to educate individuals about health insurance enrollment through the ACA Marketplace and Medicaid. This outreach includes graphics like the one below which highlight the new opportunities to enroll due to COVID. These graphics are available in the Community Catalyst Outreach Hub. You can also check out the social media toolkit Community Catalyst created for the COVID SEP.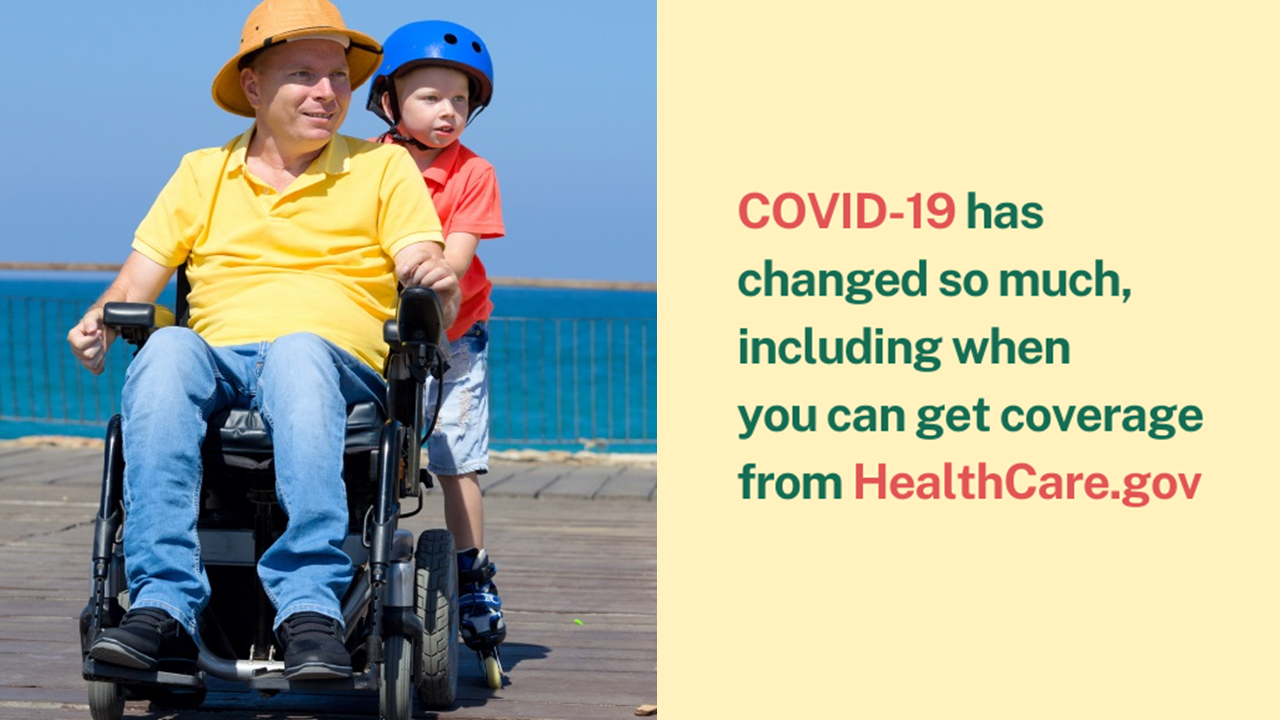 Our partners at the Center for Budget and Policy Priorities (CBPP) have also created a FAQ sheet for the COVID SEP.
Additionally, if you want to learn more about the COVID SEP, CMS is hosting a webinar on the SEP for community-based organizations today at 3:00 PM ET. You can still register for that webinar by clicking here.
While the new COVID SEP is exciting, extended enrollment is nothing new for Medicaid as it has year-round enrollment. Last month, we announced a new project in partnership with Community Catalyst in which we will be conducting Medicaid outreach to raise awareness about the potential enrollment in the program for individuals without health insurance. If you want to learn more about the Medicaid Outreach Partnership, check out our blog post.
A new blog post from the Georgetown University Center on Health Insurance Reforms (CHIR) takes a look at how health insurance companies are looking to expand the ACA.
Last week we wrote about the potential COVID relief bill which Congress is considering and what it could mean for coverage under the ACA. A new blog post from the National Academy for State Health Policy looks at some of these possible policies and what they could mean for affordability of coverage through the ACA.
The NIDILRR-funded Collaborative on Health Reform and Independent Living (CHRIL) at the University of Kansas is looking for adults with disabilities to complete an online survey about health insurance, health care access and the current pandemic. To complete the survey, go to: 2021 National Survey on Health and Disability. For more information on who should complete the survey and to learn about the drawing they are having for gift cards, check out our news item.
Archives of our weekly updates are available on the NDNRC website.