HIGHER TAX SUBSIDIES AVAILABLE
Previously, we reported on the changes to the ACA marketplaces due to the American Rescue Plan Act (ARPA), including the increase in the tax subsidies available to consumers. Yesterday, HHS Secretary Becerra announced that beginning April 1st these increased subsidies would appear on healthcare.gov as consumers go on to the website to get covered. To learn more, check out our news item which includes links to both an English and Spanish fact sheet from CMS.
Additionally, CMS has released resources which assist with outreach during the COVID SEP. This resource page includes fact sheets, sample social media posts, graphics and flyers in English and Spanish.
The Kaiser Family Foundation also has a new issue brief which details how the increased ARPA subsidies will assist those who are uninsured.
Last week, HHS announced that the COVID Special Enrollment Period (SEP) was being extended from May 15 to August 15, 2021. The COVID SEP began on February 15, and now consumers will now have an additional three months in which to enroll in coverage without needing to provide proof of a qualifying life event. To read more about this announcement and for links to the HHS press release and CMS fact sheet, check out our news item.
If you missed it last week, we hosted a webinar entitled "COVID SEP – How is it different?". This webinar addressed how the COVID Special Enrollment Period (SEP) is different from usual SEPs. It also explored the specifics of how the COVID SEP works and looked at what people with disabilities need to consider when selecting a health insurance plan. Finally, it also addressed the American Rescue Plan Act's effect on the marketplace. This week, we uploaded this webinar to our YouTube channel and links to the slide deck and video recording can be accessed in our news item.
For more information about the COVID SEP, check out our other NDNRC posts:
In an effort to highlight the COVID SEP, AAHD has a project with Community Catalyst and other partners in conducting outreach to educate individuals about health insurance enrollment through the ACA Marketplace and Medicaid. This outreach includes graphics like the one below which highlight the fact that healthcare.gov is open now. These graphics are available in the Community Catalyst Outreach Hub. You can also check out the social media toolkit Community Catalyst created for the COVID SEP.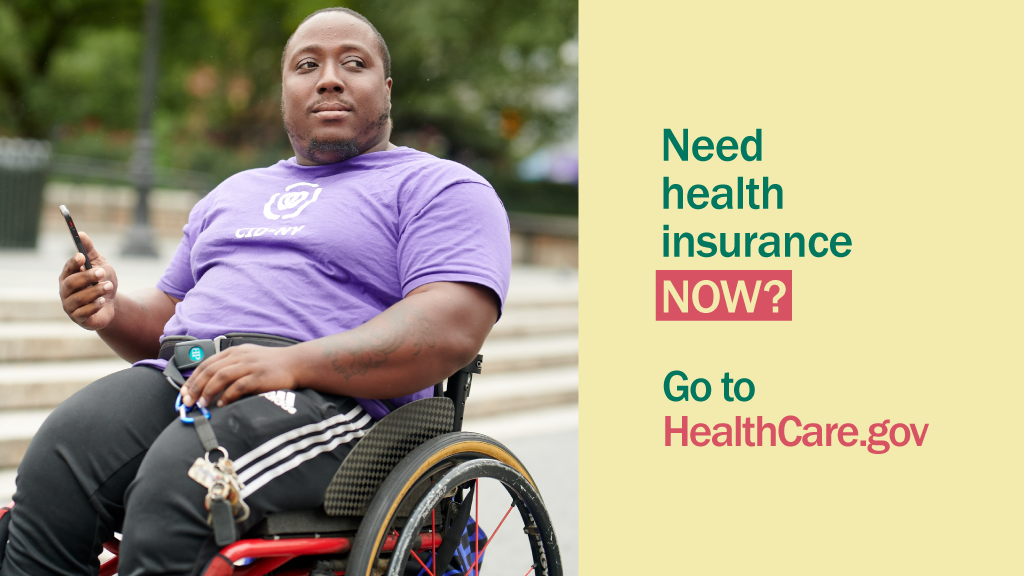 For this past Open Enrollment Period (OE8), there were two new state-based marketplaces (SBMs) in New Jersey and Pennsylvania. The Georgetown University Center on Health Insurance Reforms has posted a blog post which reviews how the two new SBMs handled this past OE8.
One of the provisions included in the ARPA is increased funding for the 12 states who have not yet expanded Medicaid. A new blog post by our partners at Community Catalyst outlines the benefits that these states would receive if they were to expand Medicaid.
The American Association on Health and Disability (AAHD) is very concerned about the impact of COVID-19 on persons with disabilities.  Now that vaccines are becoming more available, AAHD wants to understand the reasons for COVID-19 vaccination decisions among adults (18+) with disabilities.  The purpose of the COVID-19 and Vaccine Survey for Adults with Disabilities is to understand the reasons adults with disabilities have or will take the vaccine, are not sure about taking it, or have decided not to take the vaccine.  The average completion time for the survey is less than 10 minutes.  The survey is now open using this link! The deadline to complete the survey is TODAY! If you want to read more, please check out our page on the AAHD website.
Archives of our weekly updates are available on the NDNRC website.