TO EXPAND OR NOT TO EXPAND?
Our partners at Community Catalyst recently posted two blog posts which highlight the benefits of Medicaid expansion under the Affordable Care Act (ACA). This week, we highlighted some of these findings in our new blog post.
One of the provisions in the American Rescue Plan Act (ARPA) made it more advantageous for states to expand Medicaid under the ACA if they had not already done so. To learn more about new incentives for states to expand Medicaid under ARPA, check out this issue brief from the Kaiser Family Foundation.
In prior newsletters, we have highlighted the provisions in the ARPA which provide incentives to states to expand or improve their Home and Community-Based Services (HCBS) in their Medicaid program. A new blog post by the National Academy for State Health Policy highlights these provisions and addresses some considerations states could be thinking about in relation to the HCBS funding under the ARPA.
The ARPA had many provisions in it which relate to Medicaid, CHIP and the ACA marketplace. CMS just issued guidance on how it intends to implement many of these changes.
In a previous news item, we highlighted the fact that the Biden administration announced that they would be increasing funding for the navigator program for the 2022 plan year. The Center on Budget and Policy Priorities (CBPP) will be hosting a webinar this Wednesday, June 9 at 1 PM ET for organizations considering applying for the new navigator grants. You can register now for this webinar.
Speaking of funding for assisters, CMS announced this week that they were starting to accept applications for organizations who want to act as a Certified Application Counselor Designated Organization. To learn more about this opportunity, check out the CMS's overview of the program.
In an effort to highlight the COVID Special Enrollment Period (SEP), AAHD has a project with Community Catalyst and other partners in conducting outreach to educate individuals about health insurance enrollment through the ACA Marketplace and Medicaid. This outreach includes graphics like the one below which highlight the opportunity to enroll due to COVID. These graphics are available in the Community Catalyst Outreach Hub. You can also check out the social media toolkit Community Catalyst created for the COVID SEP.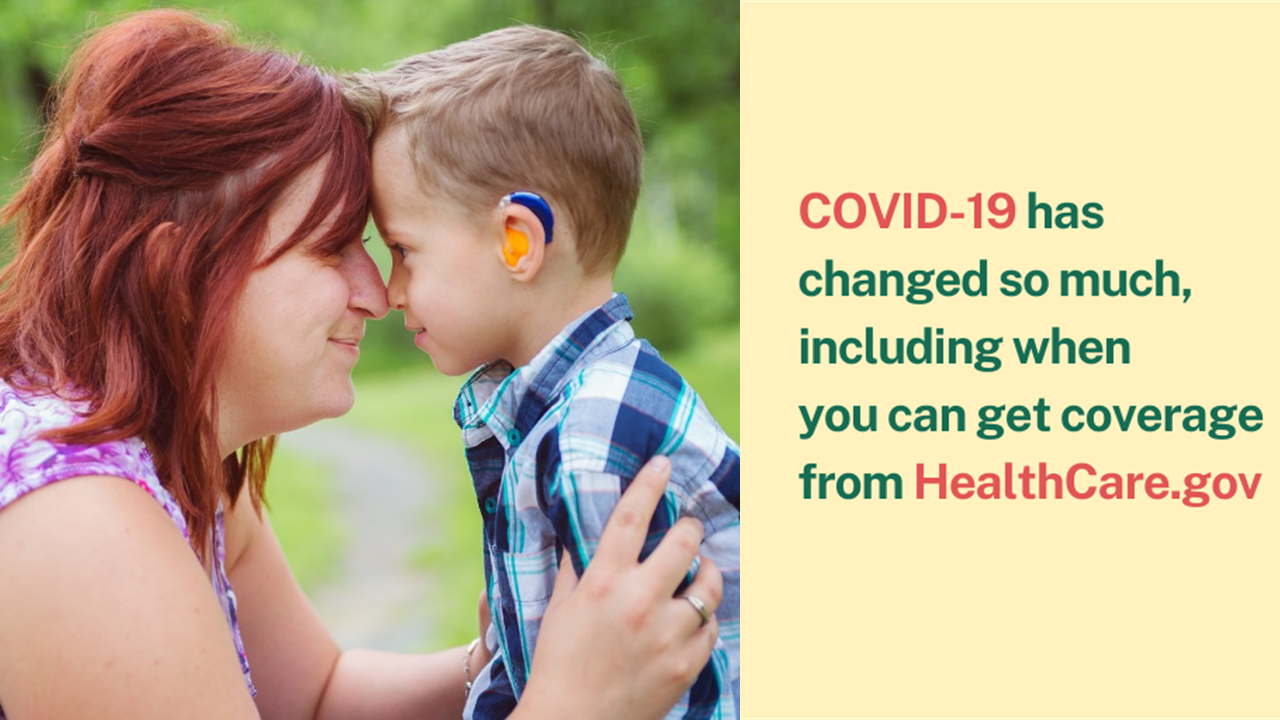 For more information about the COVID SEP, you can check out some of our other NDNRC posts from the past few months, including our blog post on states who have extended their COVID SEP.
If you're looking for a new resource to help with outreach to individuals about why they should consider getting covered during the COVID SEP, Families USA has a new fact sheet which uses a Q&A format to answer consumers questions about why they should consider enrolling and what premium assistance is available.
A new blog post from the Georgetown University Center on Health Insurance Reforms summarizes a new issue brief from the Commonwealth Fund on what administrative actions the Biden administration has taken and could take to help improve the ACA marketplace.
Since 2018, AAHD has been doing outreach to the disability community on NIH's All of Us Research Program. Previously, we had released a Call to Action (CTA) which provides the rationale for why people with disabilities should get involved in the All of Us Research Program. If you missed it, we announced recently that we had this CTA translated into Spanish. If you want to read more about AAHD's efforts in this program, check out the All of Us page on our website.
Archives of our weekly updates are available on the NDNRC website.