THANKFUL FOR COVERAGE
With the Thanksgiving holiday next week, we will not be having an NDNRC update. We will return on December 3rd. Have a Happy Thanksgiving!
With the Thanksgiving holiday next week, we will be celebrating health coverage, including Medicaid and what they mean for people with disabilities. As part of the week, we will be participating in events which say why we are "Thankful for Coverage". On Tuesday, November 23 at 1:00 PM ET, we will be hosting a Facebook live event and saying why we are Thankful for Medicaid. To watch this event, check out our AAHD Facebook page.
Later on Tuesday, November 23 at 3:00 PM ET, we will be cohosting a Twitter chat with Young Invincibles on why we are "Thankful for Coverage". To participate, follow along with the hashtag #TodaysVoicesTues or follow the AAHD Twitter account.
Last week was Disability Week of Action for Open Enrollment Year 9 (OE9) and we conducted many activities with the aim of encouraging people with disabilities to enroll in health insurance for 2022. If you missed any of our new blog posts or events check out the following links:
Disability Week of Action is just one of many the weeks which CMS announced prior to the start of OE9. The entire list of theme weeks can be found in our news item.
If you're conducting enrollment assistance for OE9, AAHD has the resources you need as you assist people with disabilities enroll in health insurance. AAHD is once again working with Community Catalyst and other partners in conducting outreach to educate individuals about the ACA Marketplace. This outreach includes graphics like the one below which highlight the fact that you can now enroll in health insurance. These graphics are available in the Community Catalyst Outreach Hub.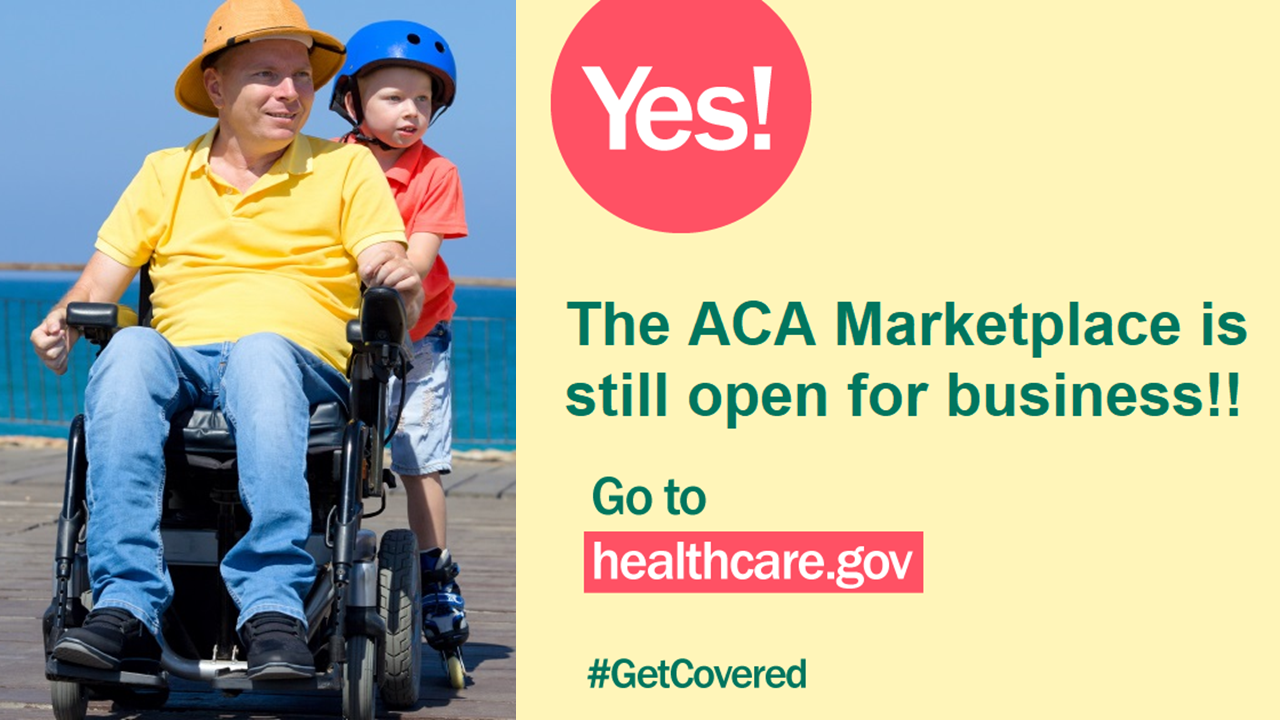 If you're assisting people with disabilities with enrollment decisions, we want to make sure you have all the resources you need to be able to assist individuals with disabilities as they consider their options on the ACA marketplace. Check out our blog post from earlier this month for links to all of our NDNRC resources designed to help assisters as they help people with disabilities enroll in the marketplace.
Yesterday, CMS released its Week 2 Snapshot with the latest enrollment numbers for OE9. So far, over 1.6 million people have selected a plan through the marketplace.
A new blog post in Health Affairs has been written by CMS Administrator Chiquita Brooks-LaSure and Deputy Administrator Daniel Tsai on their strategic vision for Medicaid and CHIP.
In prior newsletters, we have reported on the No Surprises Act which was passed at the end of 2020 and aims to eliminate surprise billing. The Georgetown University Center on Health Insurance Reforms (CHIR) has two new blog posts this week which address this topic. The first is on a new Federal interim rule on the law and the second is on initiatives at the state level on this issue.
CHIR also has a new blog post with their FAQ of the Week – "Who Is Eligible for Financial Assistance on the Marketplace?"
If you're looking for more resources for OE9, Young Invincibles also has an OE9 Materials Folder which includes toolkits in English and Spanish and social media graphics which are continuously updated.
Archives of our weekly updates are available on the NDNRC website.