OVER 3 MILLION COVERED & COUNTING
Yesterday, CMS released its Week 4 Snapshot with the latest enrollment numbers for OE9. Through November 27, over 3 million people have selected a plan through the marketplace.
As part of last week's Thanksgiving holiday, we celebrated being thankful for health coverage, including Medicaid and what they mean for people with disabilities. As part of "Thankful for Coverage" week, we participated in several events including hosting a Facebook live event saying why we are Thankful for Medicaid. To watch this event, check out our AAHD Facebook page.
Did you know that December 15 represents the deadline in most states to get coverage which starts January 1, 2022? If you're conducting enrollment assistance, AAHD has the resources you need as you assist people with disabilities enroll in health insurance. AAHD in partnership with Community Catalyst is conducting outreach to educate individuals about the ACA Marketplace. This outreach includes graphics like the one below which highlight the fact that you can now enroll in health insurance. These graphics are available in the Community Catalyst Outreach Hub.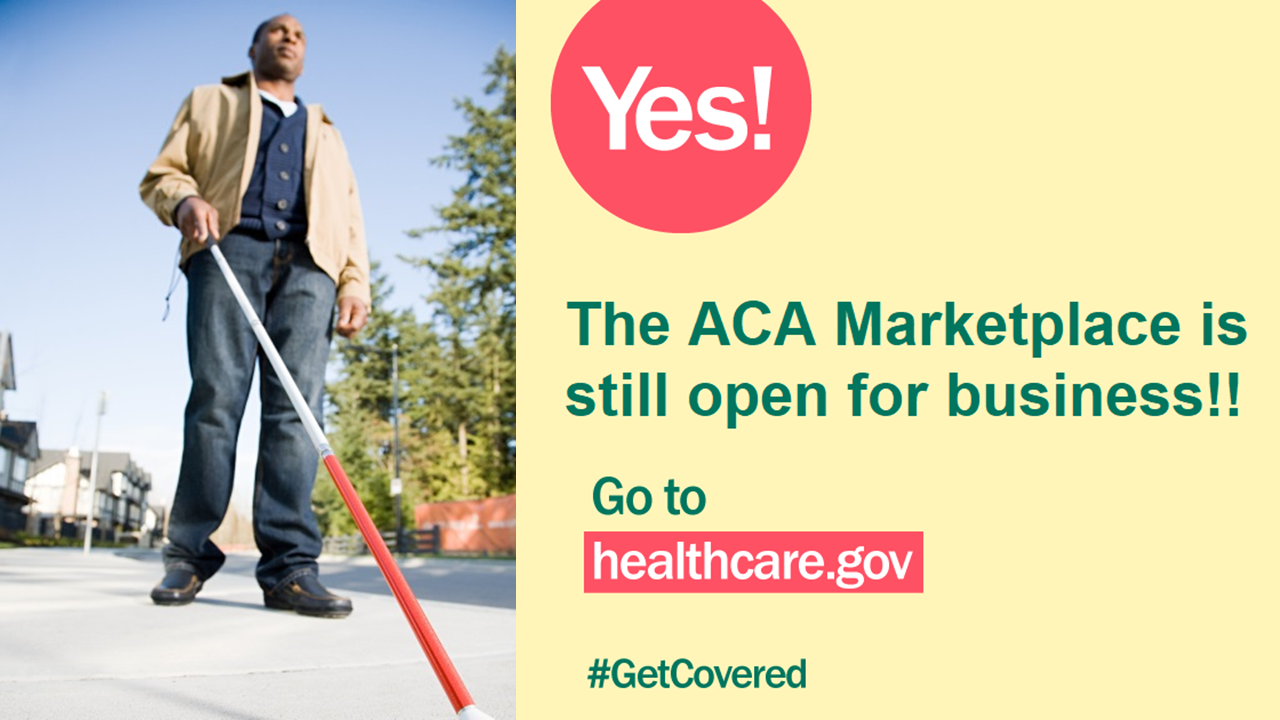 On Tuesday, December 7 at 3:00 PM ET, we will be participating in a Twitter chat with Young Invincibles on open enrollment and the significance of the December 15 deadline for coverage starting January 1, 2022. To participate, follow along with the hashtag #TodaysVoicesTues or follow the AAHD Twitter account.
The Georgetown University Center on Health Insurance Reforms (CHIR) has a new blog post with their FAQ of the Week – "What Are the Risks of Buying Off-Marketplace?"
The American Rescue Plan Act has given all states the ability to invest in transition services and housing, according to a new blog post by the National Academy for State Health Policy. Each state receives a 10% increase in federal medical assistance programs for Medicaid Home and Community-Based Services (HCBS). According to the NASHP blog, this investment in affordable housing will greatly impact those who rely on these Medicaid services and lessen the health equity gap that many face today.
If you're assisting people with disabilities with enrollment decisions, we want to make sure you have all the resources you need to be able to assist individuals with disabilities as they consider their options on the ACA marketplace. Check out our blog post from last month for links to all of our NDNRC resources designed to help assisters as they help people with disabilities enroll in the marketplace.
Last month we held Disability Week of Action for Open Enrollment Year 9 (OE9) and conducted many activities with the aim of encouraging people with disabilities to enroll in health insurance for 2022. If you missed any of our new blog posts or events check out the following links:
Disability Week of Action was just one of many the weeks which CMS announced prior to the start of OE9. The entire list of theme weeks can be found in our news item.
If you're looking for more resources for OE9, Young Invincibles also has an OE9 Materials Folder which includes toolkits in English and Spanish and social media graphics which are continuously updated.
Archives of our weekly updates are available on the NDNRC website.