THANKFUL FOR COVERAGE
With the Thanksgiving holiday next week, we will not be having an NDNRC update. We will return on December 2nd. Have a Happy Thanksgiving!
As we enter the Thanksgiving holiday season, there is a lot for us to be thankful for as we continue through Open Enrollment Year 10 (OE10). With the passage of the Inflation Reduction Act (IRA), the enhanced premium tax credits will continue to be available to consumers making coverage more affordable again this year. You can read more about this in our news item we published when the IRA was passed.
Previously, we reported on the new rules which fixed the so-called "family glitch" (check out our news item). The Center on Budget and Policy Priorities (CBPP) has just released a new fact sheet which addresses FAQs on the new "family glitch" rules.
Additionally, CBPP updated their webinar on premium tax credits to reflect the new rules. CBPP concluded its fall Beyond the Basics webinar series which provides training for assisters to prepare for OE10. All the webinars are archived and can be accessed in our news item which has links for the slides and video recording of each webinar.
Last week was Disability Week of Action and here are a few of the things that we did to promote enrollment for people with disabilities throughout the week:
If you're interested in resources like the Renewals and Redetermination fact sheet, AAHD has more resources to help you provide assistance to consumers with disabilities who are enrolling in health insurance. When OE10 started, we released a blog post which highlights our resources available on the NDNRC website.
As part of our partnership with Community Catalyst, we have a project which highlights opportunities for people with disabilities to get access to health coverage through Medicaid or the ACA marketplace. As part of this project, they have graphics like the one below which highlight what ACA plans cover along with the dates for OE10. These graphics are available in the Community Catalyst Outreach Hub.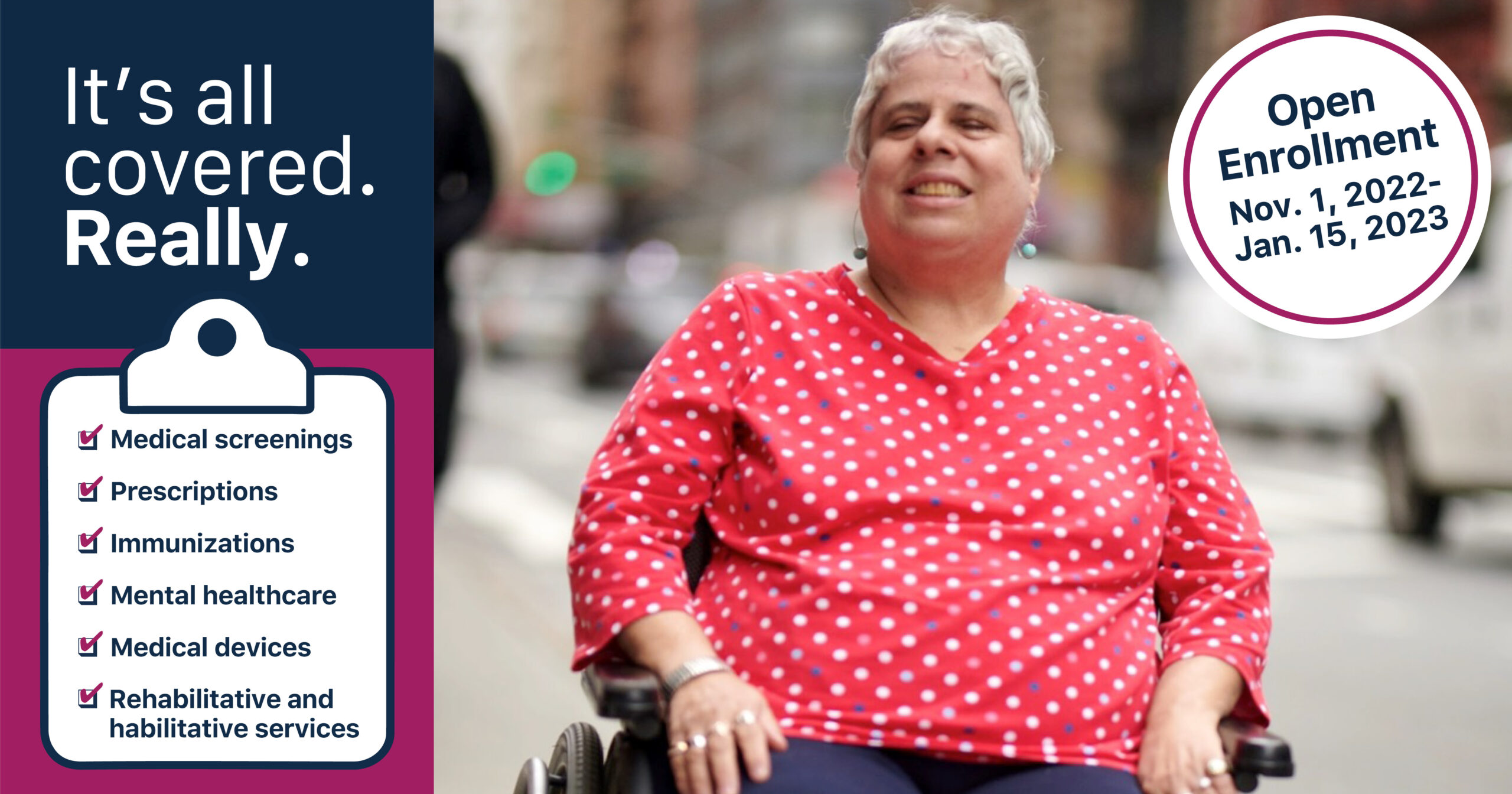 The Kaiser Family Foundation released a summary of "Nine Changes to Watch in ACA Open Enrollment 2023."
As we reported previously, the end of the Public Health Emergency (PHE) will bring about the end of the continuous coverage requirement under Medicaid and states will begin conducting redeterminations of the eligibility for Medicaid beneficiaries. In this week's "Unwinding Wednesdays" blog post from the Georgetown University Center for Children and Families, they explain why the PHE may be extended until April 2023.
We've been highlighting the Georgetown University Center on Health Insurance Reforms (CHIR) navigator resource guide which provides a lot of helpful content for health insurance navigators and other enrollment assisters. The CHIR blog has started their Navigator Guide FAQ of the Week. This week they address the question "Who Is Eligible for Marketplace Coverage?"
If you missed it last month, we highlighted an interview we did with the Capitol View podcast from the Georgia Radio Reading Service where we discussed affordability of health insurance plans and the upcoming end of the public health emergency and what both of those mean for people with disabilities.
If you're looking for resources to help with outreach during open enrollment, Young Invincibles has released their OE10 Partner Toolkit. In this toolkit, you will find information on messaging, social media graphics and materials in multiple languages.
Archives of our weekly updates are available on the NDNRC website.