EXPANSION OF DME COVERAGE!
This week, the Centers for Medicare and Medicaid Services released a proposed National Coverage Determination (NCD) to cover elevation systems in power wheelchairs as a Medicare benefit. Comments on this proposal will be received through March 17, 2023. To learn more or for links to the proposed rules and CMS press release, check out our news item. AAHD is a member of the ITEM Coalition which has been advocating for the expansion of Medicare to include this benefit for many years. While this proposal will only affect coverage for Medicare, many private insurers follow Medicare guidelines for coverage, so this could have far-reaching implications for those who utilize power wheelchairs for their mobility.
While Open Enrollment Year 10 (OE10) has ended, that doesn't mean that there still isn't an opportunity to get covered. For instance, did you know that certain life events can create a Special Enrollment Period (SEP) when individuals can enroll? As part of our partnership with Community Catalyst, we have a project which highlights opportunities for people with disabilities to get access to health coverage through Medicaid or the ACA marketplace. As part of this project, they have graphics like the one below which highlight that an SEP is available for those who are recently divorced. These graphics are available in the Community Catalyst Outreach Hub.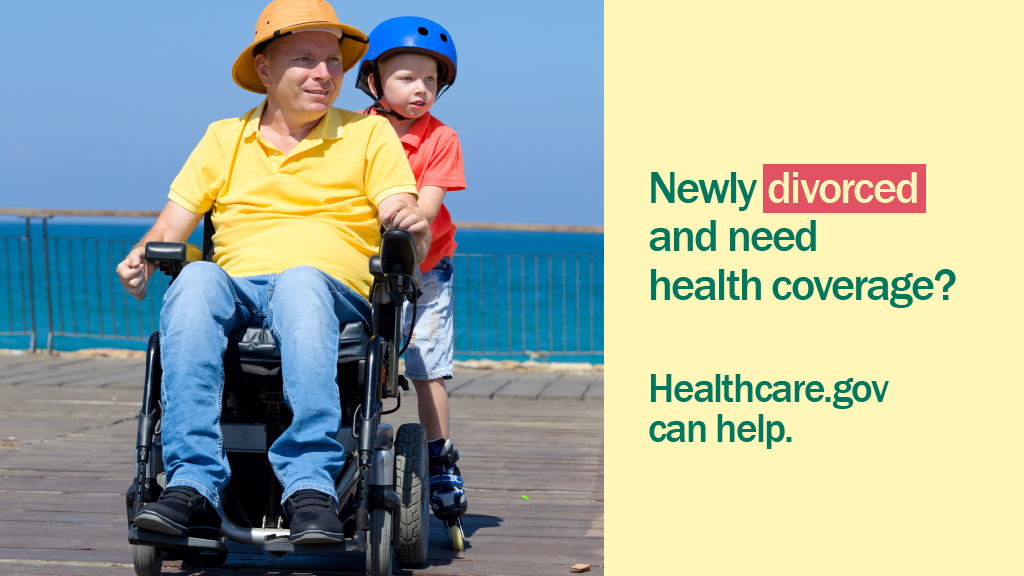 Speaking of SEPs, the Center on Budget and Policy Priorities (CBPP) has updated their reference chart on the different types of SEPs available and the time limitations involved in people enrolling under one of the SEPs.
If you missed it, check out our latest comic of Olli the NaviGator as he celebrates the record enrollment for OE10. You can see all of Olli's adventures on our social media channels plus we have compiled all of Olli adventures on this NDNRC webpage.
Originally, the end of the Medicaid continuous coverage requirement was supposed to occur when the Public Health Emergency (PHE) ended. However, as part of Congress's year-end spending package, the continuous coverage requirement will end independently of the PHE on April 1. To learn more about this, check out our news item.
Wednesday was the date that states needed to submit their plans to CMS for how they will conduct the unwinding of the Medicaid continuous coverage requirement. The Georgetown Center for Children and Families has a blog post which outlines exactly what this means and what advocates can do.
If you want to learn more about the end of the Medicaid continuous coverage requirement, CBPP has announced that they will be holding a webinar on Tuesday, February 21, 2023 at 2:00 PM ET. Registration is now open for that webinar.
The National Health Law Program (NHeLP) released a new checklist for Medicaid redeterminations as the Medicaid unwinding takes place. NHeLP has a page of resources available on the Medicaid redeterminations.
If you want to read more about what CMS is doing to oversee the Medicaid redeterminations, check out the CMS letter to the states which they released at the end of January.
The Kaiser Family Foundation has updated their data reviewing cost sharing for plans offered in the ACA marketplace. The data which goes back to 2014 has been updated to include the information on plans offered for the 2023 plan year.
Archives of our weekly updates are available on the NDNRC website.