NHeLP SUES ADMINISTRATION OVER MEDICAID WORK REQUIREMENTS
Last week, we reported on the new waiver which was approved by CMS in Kentucky which would allow the state to impose work requirements as a prerequisite for Medicaid enrollment. This week, the National Health Law Program (NHeLP) filed a lawsuit challenging the approval of the Kentucky waiver arguing that it exceeds the authority provided by the Medicaid Act. To read more about the lawsuit, check out the press release from NHeLP as well as their summary of their lawsuit.
If you're interested in learning more about the Kentucky waiver, you can also check out this issue brief from the Kaiser Family Foundation. Last week, we also highlighted fact sheets on the Kentucky waiver from the NHeLP, Families USA and the Center on Budget and Policy Priorities (CBPP). You can also check out our news item from last week about the issue brief from Kaiser detailing which states have already submitted applications for similar waivers.
In prior newsletters, we have highlighted the fact that authorization for the Children's Health Insurance Program (CHIP) had expired in September. The temporary spending bill passed by Congress this week did finally address the reauthorization of CHIP for the next six years. To read more about this, check out the blog post from the National Academy of State Health Policy.
The Georgetown University Center on Health Insurance Reforms (CHIR) has released a new issue brief which examines the Trump Administration's proposed rule which would allow for group coverage status for Association Health Plans (AHPs). To read more about the brief or to download a copy, check out our news item. You can also read more about the proposed AHP rule in the Health Affairs blog.
The CHIR also has a recent series of blog posts where they look at the comments from different groups on the 2019 Notice of Benefit and Payment Parameters. This blog series examines comments from insurers, consumer advocates and states.
The Kaiser Family Foundation has also released a report on their 50-state survey of Medicaid Home and Community-Based Services (HCBS). To read more about the report or to download a copy, check out our news item.
Did you know that open enrollment was still going on in three of the state-based marketplaces? As we explained in our blog post, California, DC and New York have open enrollment periods which end on January 31, 2018. If you're interested in materials to help with continued outreach in these state-based marketplaces, we have partnered with Community Catalyst on a project aimed at spreading awareness about the open enrollment period (with tools like the graphic below). If you want to read more about this project, check out our blog post.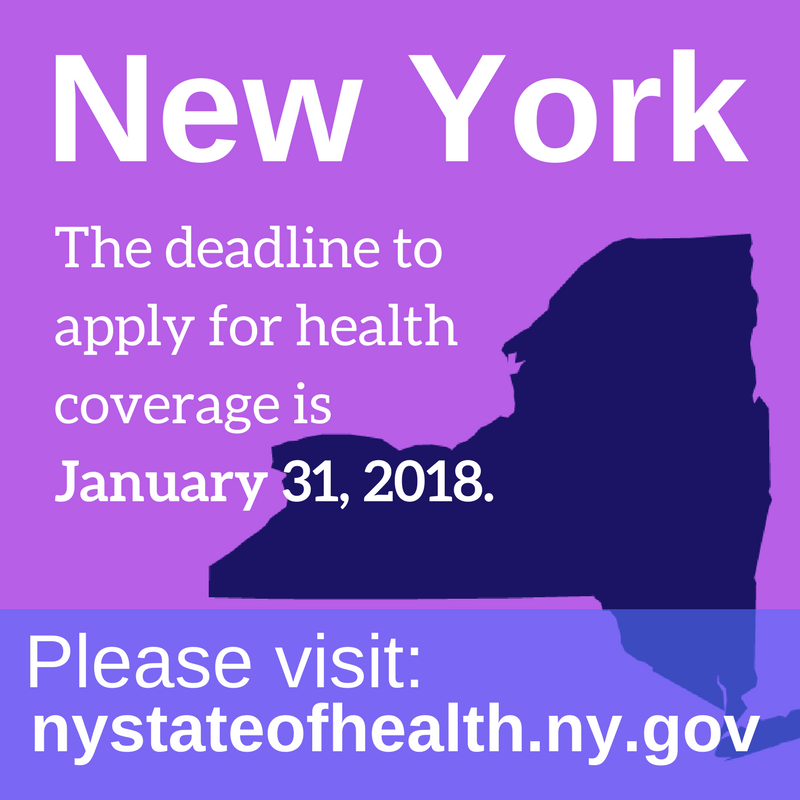 Do consumers come to you with questions about appeals? CBPP will be hosting a webinar as part of their Health Reform: Beyond the Basics series on Thursday, February 1, 2018 at 12:00-1:00 PM ET. This webinar will address the "Marketplace Appeals Process." You can register here for that webinar. AAHD has partnered with CBPP on a project called the Consumer Assistance Coordination Hub (CACH). The CACH supports individuals and groups that provide enrollment assistance. To read more about this project, check out our blog post.
Join the NASUAD Disability Business Acumen Center on January 31, 2018 from 1:00-2:00 PM ET as they present a webinar entitled "Strategy Development: Use national data to inform your work." This webinar will be presented by NASUAD and describe how national performance data, such as the National Core Indicators (NCI)™, can be used to develop contract strategies with health plans.
The CDC funded Disability Research and Dissemination Center has announced new GRANT OPPORTUNITIES for FY 18.  Please read more about the seven (7) DRDC research opportunities at the DRDC website.  Applications are due by 5PM EST on Monday, March 5, 2018.
The University of Washington (UW), in partnership with Columbia University's Health and Aging Policy Fellows Program, is pleased to announce a competitive postdoctoral fellowship for individuals with an interest in the intersection of aging, disability, and policy research. The fellowship includes a year of training in rehab policy research, and a year in DC interning with the Health and Aging Policy Fellows Program. For information and instructions on how to apply, check the RRTC's website.
On Wednesday, the Centers for Medicare & Medicaid Services (CMS) released the Eligibility Determinations and Enrollment Report from November 2017. This report can also be found on our Resources & Links page under "Enrollment Statistics." Prior Medicaid enrollment reports from CMS, are archived on our website.
Are you looking for local partners to help with outreach to the disability community? The NDNRC has Community Outreach Collaboratives (COCs) which work to increase collaborations in the community, dissemination and outreach efforts and enrollment of people with disabilities in the ACA marketplace. You can find a COC, on the COC page of our website.
Archives of our weekly updates are available on the NDNRC website.