HEALTH INSURANCE ENROLLMENT IS UP
CMS has issued a report indicating the enrollment numbers for the COVID Special Enrollment Period (SEP). During the first month and a half of the COVID SEP, over 500,000 people selected a new plan through healthcare.gov. To learn more about the report or for links to the CMS report (which includes a breakdown by state) and the HHS press release, check out our news item.
For more information about the COVID SEP and the effect of the American Rescue Plan Act (ARPA) on the ACA marketplaces, check out our other NDNRC posts from the past few months:
In an effort to highlight the COVID SEP, AAHD has a project with Community Catalyst and other partners in conducting outreach to educate individuals about health insurance enrollment through the ACA Marketplace and Medicaid. This outreach includes graphics like the one below which highlight the fact that healthcare.gov is open now. These graphics are available in the Community Catalyst Outreach Hub. You can also check out the social media toolkit Community Catalyst created for the COVID SEP.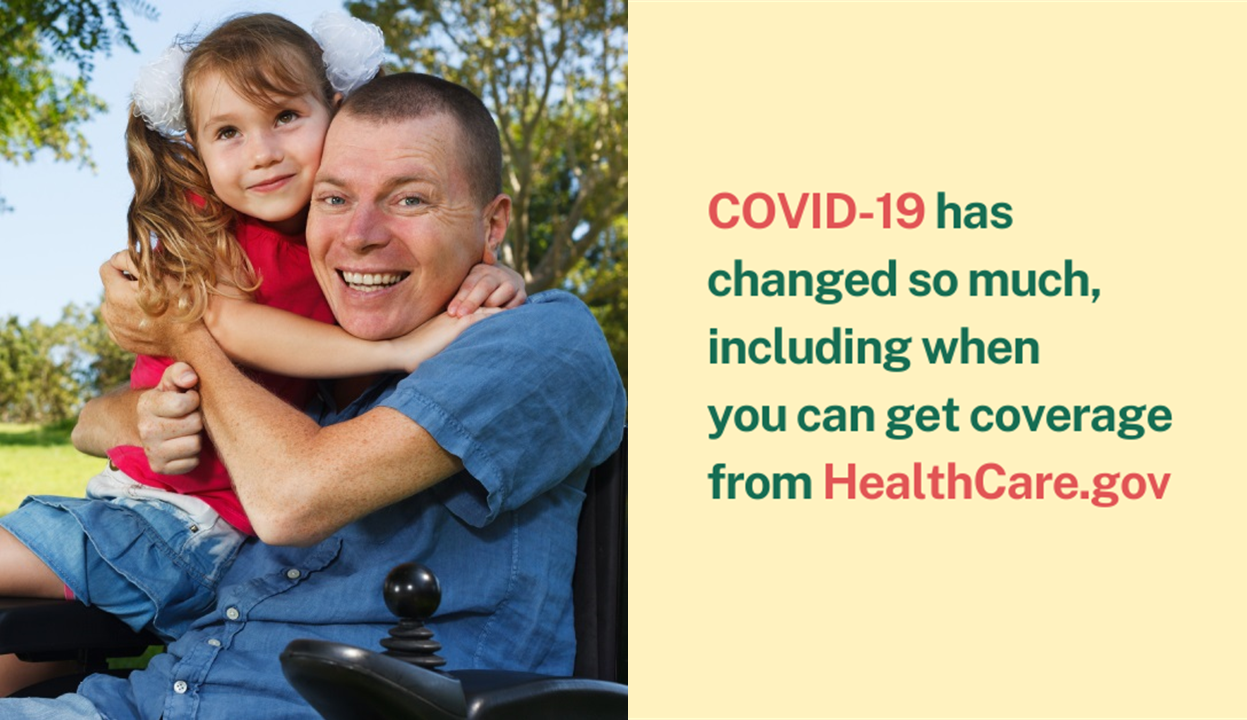 With the passage of ARPA and other proposed legislation, many states have a unique opportunity to expand the use of home and community-based services (HCBS). The National Academy for State Health Policy (NASHP) has a new blog post which outlines these new opportunities. Another new resource on HCBS is from Justice in Aging and is entitled "Medicaid Home and Community-Based Services for Older Adults with Disabilities: A Primer".
Our partners at Community Catalyst have also posted a blog through their Center for Consumer Engagement in Health Innovation on the effect that the ACA has had on people with disabilities through the expansion of HCBS.
Previously, we reported on the passage of the No Surprises Act which passed through Congress at the end of last year. The Georgetown University Center on Health Insurance Reforms has posted a blog post which looks at this law and what states have been doing on balance billing.
The Vaccine Information Collaborative for Persons with Disabilities and Older Adults has issued a new fact sheet entitled Creating an Accessible Vaccine Experience for People with Disabilities and Older Adults.
The NIDILRR-funded Collaborative on Health Reform and Independent Living (CHRIL) at the University of Kansas is looking for adults with disabilities to complete an online survey about health insurance, health care access and the current pandemic. To complete the survey, go to: 2021 National Survey on Health and Disability. For more information on who should complete the survey and to learn about the drawing they are having for gift cards, check out our news item.
Archives of our weekly updates are available on the NDNRC website.