ACA ANNIVERSARY WEEK
Wednesday, March 23 represents the 12 year anniversary of the Affordable Care Act (ACA) being signed into law. To celebrate this anniversary, we will be participating in a tweet storm along with Young Invincibles on Wednesday, March 23 at 2:00 PM ET. You can follow along on the AAHD Twitter or with the hashtags #ACA12 or #ThxACA.
Last week, we started a new series of live interviews with members of the disability community to learn how they make the most of their insurance coverage. So far, we have covered the topics of rehabilitation/habilitation benefits and mental health. Please join our conversation every Wednesday afternoon between now and April 6th as we discuss how to access care and get the most out of your insurance. Next week's interview will be on getting the most out of your health insurance related to medical devices. You can access this live stream through our Facebook page.
For the full list of upcoming topics as well as dates/times, check out our news item. You can also view archives of the conversations on our Facebook page or at the following links on our YouTube channel:
These Facebook live interviews are part of a broader outreach project we have on ACA and Medicaid outreach and enrollment. This project is one we have in partnership with Community Catalyst and highlights opportunities for people with disabilities to get access to health coverage and then move from coverage to care. As part of this project, we have resources you need to help with outreach including graphics like the one below which highlight lowering health care costs by only using the ER for emergencies. These graphics are available in the Community Catalyst Outreach Hub.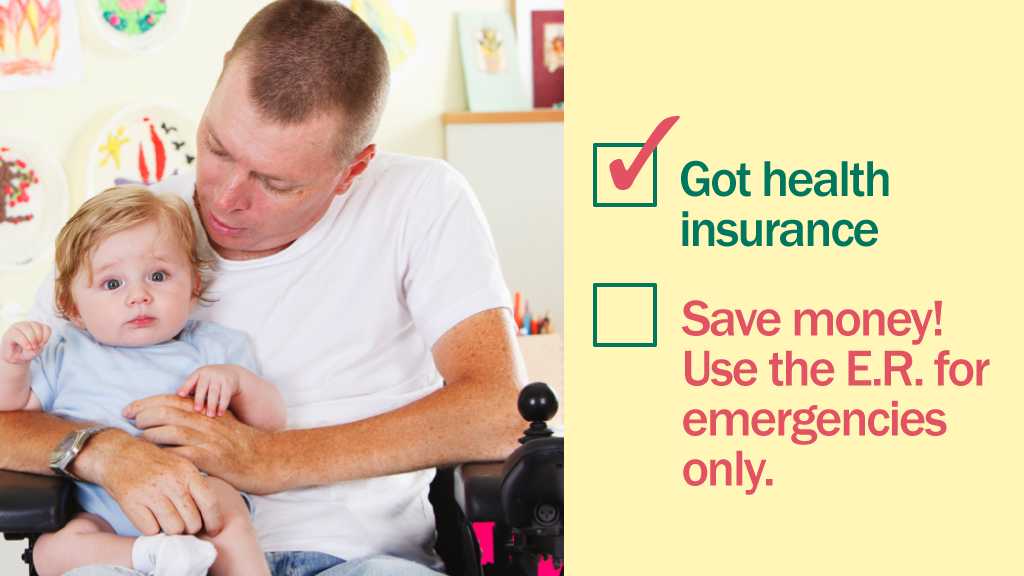 If you want to learn more about helping people transition from coverage to care, check out the fact sheet we released on the topic. As this is a fact sheet that is intended for consumers, we have versions available in English and Spanish. If you're looking for additional Coverage to Care resources, check out the resource center from CMS.
While Open Enrollment Year Nine (OE9) has ended, there may still be an opportunity to enroll in health insurance coverage. Generally, if someone experiences a major life event, they could qualify for a Special Enrollment Period (SEP). You can also learn more about what qualifies for a SEP as a result of a major life event in this blog post.
Our prior newsletters have addressed the upcoming end of the public health emergency and what it could mean for Medicaid enrollees. The Robert Wood Johnson Foundation and the Urban Institute recently released a policy brief which examines what this means from the perspective of state health officials and what can be done by the federal government to ease the potential burden. Additionally, if you missed it last week CMS recently released a new toolkit which includes messaging to explain this complicated issue.
Previously, we reported on CMS's proposed Notice of Benefit and Payment Parameters for 2023. Comments on these proposed rules were due in January and the Georgetown University Center on Health Insurance Reforms (CHIR) has a new blog post which summarizes many of the comments submitted by insurance companies and brokers.
AAHD continues to do outreach to the disability community on the All of Us Research Program and this past week we had the pleasure of conducting a panel discussion on a documentary film Hearts of Glass. This panel discussion has been archived on YouTube. If you are interested in watching Hearts of Glass, the viewing window ends today – check out the registration page.
Archives of our weekly updates are available on the NDNRC website.